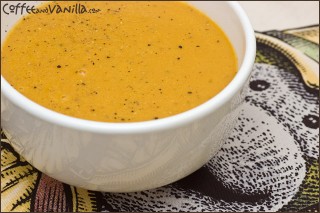 INGREDIENTS
1½ kg young carrots (chopped coarsely)
2½ litre hot water
4 vegetable cubes (10g each)
1 tbs tamarind pulp (plain sour tamarind, not sweet variety) or a little bit of lemon juice
1 cup single cream
black peppercorns
8-10 white bread slices
½ jar coriander pesto
METHOD
Place carrots, water, cubes and tamarind in a large pot and cook covered for about 45 minutes.
In meantime prepare coriander pesto bread.
Spread coriander pesto over bread slices, place them on baking tray and grill till bread is crisp, remove from the stove and keep aside.
Using hand blender process the soup till smooth and cook couple more minutes.
Stir in cream, season with freshly ground pepper and serve to the plates.
Serve with coriander pesto bread.
Serve 4-5 people.