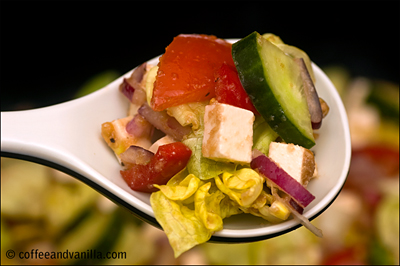 INGREDIENTS
½ lettuce (teared) or some salad leaves
½ English cucumber (cut in 4 lenghtwise, then sliced)
½ sweet pointed pepper or bell pepper (diced)
½-¼ red onion (finely chopped)
½ bar of feta or salad cheese – 100g (cubed)
2 tbs olive oil
1 tbs balsamic vinegar
freshly cracked black pepper – to taste
sea salt – to taste
onion or garlic granules – to taste
small handful of basil leaves (chopped) – optional
METHOD
Combine all ingredients in salad bowl, mix well and serve immediately or leave it in the fridge to cool down a little bit.
Serve 4 people as a side dish or snack with some crunchy bread such as Ryvita on a side.
This salad is very versatile, you can practically use any leftover greens you have in the fridge, as long as you have piece of feta cheese and some onions.