INGREDIENTS
chicken pieces for 4 people (8 pieces of leg or 4 breasts)
2 onions (cut into wedges)
1 tsp dried oregano
sea salt to taste
black peppercorns
10 sundried tomatoes from oil (chopped)
handful black olives (pitted, whole)
3 tbs oil from sundried tomatoes or some olive oil
2 small apples (cut into wedges)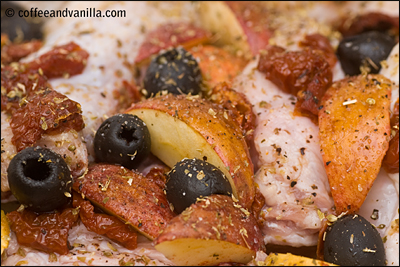 EQUIPMENT
not too big baking tin or baking dish
aluminum foil
METHOD
Preheat the oven to about 180°C (356°F).
Place piece of aluminum foil it in the middle of baking dish leaving on both sides enough extra foil to cover with them top of the dish. Arrange onion wedges on the bottom of baking dish, top them with chicken pieces, then stick in between olives, sundried tomatoes and apple wedges. Sprinkle with salt, oregano and freshly cracked pepper.
Cover with aluminum foil and place in the oven.
Bake for about an hour or until chicken is tender, uncover and bake some more until chicken is crunchy, turn in meantime once or twice. You may turn on the grill option towards the end.
Serve with some salad and baked potatoes or rice.
Make 4 servings.
I served it with rice & red beans, mixed baby leaves and some cherry tomatoes.
This recipe if variation of Sundried Tomato Chicken that I used to make quite often a while ago.