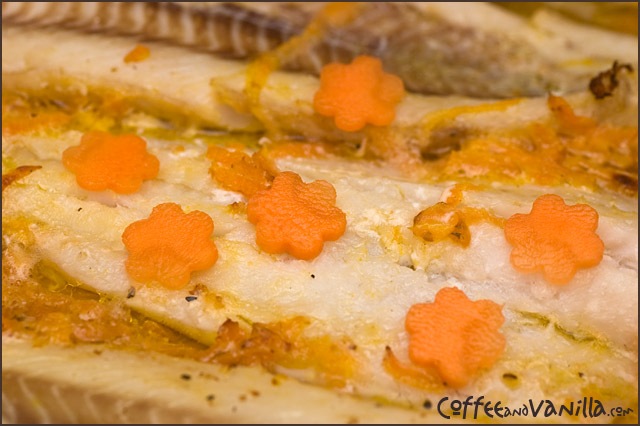 INGREDIENTS
900g frozen white fish fillets
2 tsp Adobo seasoning, Knorr Aromat or 1 tbs Vegeta (vegetable seasoning)
50g unsalted butter (chopped)
200g grated carrot (2 medium carrots)
few extra carrots slices for garnish – optional
rainbow or black peppercorns
EQUIPMENT
kitchen foil
large roasting dish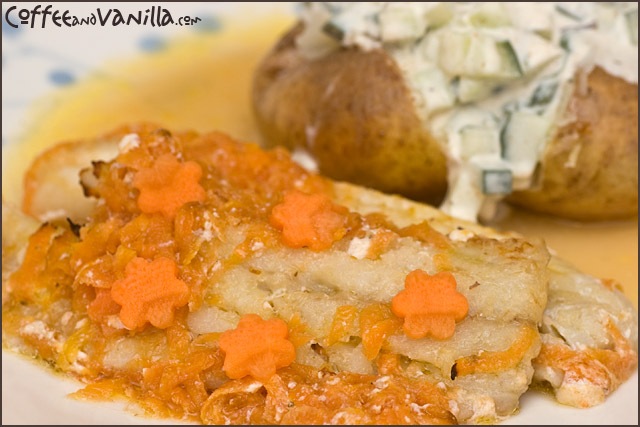 METHOD
Sprinkle frozen fish with vegetable seasoning and place in a baking dish.
Add carrots, butter, season with freshly ground pepper and cover dish with kitchen foil.
Place in the oven preheated to 180°C (356°F).
After 20-25 minutes remove foil, move fish around and place back in the oven without cover.
Bake till there is no extra water, only enough for gravy.
In meantime cut out shapes from carrot slices.
Serve fish to the plates, pour over gravy, garnish with carrot shapes.
Serve with potatoes, rice or pasta and some salad on a side.
I served it with baked potatoes and "Cucumber & Mint Raita".
Serve 4 people.