You may wonder what chocolate biscuits have to do with Ninja Dogs? A lot!
Bahlsen just launched new PiCUKUP! Black 'N White biscuits which are guarded by a Ninja Chihuahua not without a reason…
Both original and new PiCKUP!s are truly divine, very chocolatey with piece of real chocolate trapped in between two crisp biscuits.
It is extremely hard to keep them safe, I know something about it as I had to turn into ninja myself to protect them from the entire family (hubby, kids and even granny) in order to take some pictures…
That is why Today PiCKUP! launches the first ever Ninja Dog Championships in search for other Dogs That Demand Respect.
They have found FIVE ninja dogs so far (Eddie, Dizzy, Beau, Jake and Holly) and are now on a nationwide hunt for the SIXTH dog.
If you think you've got a talented ninja canine at home, entries are now open at PiCKUP! website and there are biscuits to be won!
To follow #ChocNinja Dogs on social media visit their Facebook or Twitter.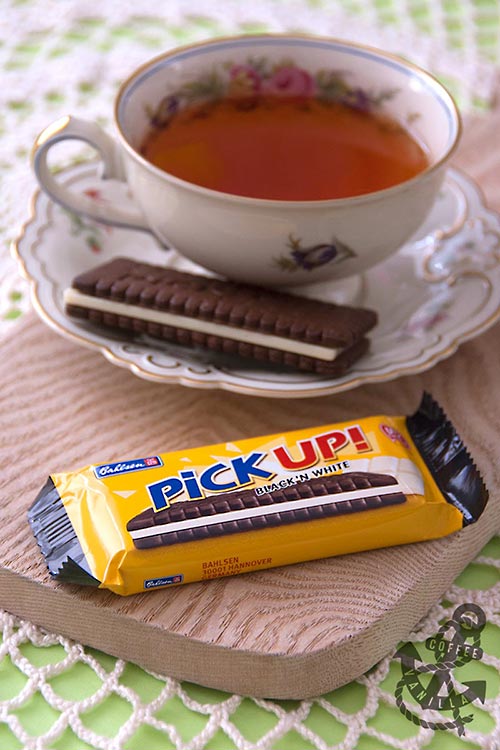 Did you know?
According to the new research from PiCKUP!:
73% of dog owners believe their dogs do have "special skills",
over 50% people think their dog is more intuitive than their partner,
70% of the nation reveal they would trust a dog to run the country over current political leaders.
NOTES
With thanks to my friends Sylwia & Dan for providing me with Bavarian teacup & saucer prop… Maybe your Poppy could be the Sixth ninja? :)
DISCLOSURE: This is commissioned post for PiCKUP! All opinions expressed here are my own and I retained full editorial control.