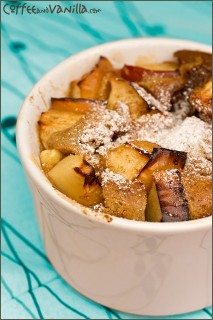 INGREDIENTS
4 apples / about 600g (cubed)
1 unwaxed lemon juice
1¼ cup plain flour
1tsp ground cinnamon
¾ cup soft dark brown sugar (I used Muscovado sugar)
1-2 pinches of salt
3-4 eggs
¼ bar / 60-65g of unsalted butter (melted)
1 cup of milk
icing sugar – optional
vanilla ice cream to serve – optional
EQUIPMENT
silicon pastry brush
6 ramekin dishes
METHOD
Preheat oven to 200°C (392°F).
Butter ramekin dishes with melted butter using pastry brush.
Sprinkle cubed apples with lemon juice and leave aside.
In a large bowl combine flour, cinnamon, brown sugar and salt. Add eggs and milk gradually, whisking all the time, at the end stir in melted butter. Pour mixture into ramekin dishes, top each one with handful of cubed apples, push them a little bit down and place in the oven. Bake for about 30 minutes till golden brown on the top. Optionally sprinkle with icing sugar.
Serve warm, perfect with vanilla ice cream on a side.
Make 6 servings.