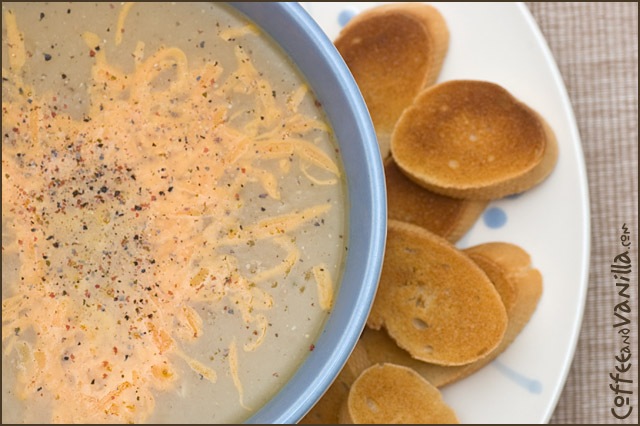 INGREDIENTS
2-2½ kg onions (peeled)
2½ litres of water
3 small (4g each) vegetable Maggi cubes
3 vegetable cubes (10g each)
30g unsalted butter for frying onions
1 whole garlic (peeled)
handful of fresh / frozen parsley
250g cheese – I used Red Leicester cheese (grated)
rainbow peppercorns
sea salt to taste
baguette bread (sliced)
METHOD
Bring water to boil in a large pot. Place Maggi and vegetable cubes to the pot.
Add also half of the onions, cut into wedges, parsley and garlic to the pot.
Another half of the onions chop and fry on butter till golden, add to the pot.
Cook soup for about 45 minutes.
In meantime grill sliced baguette in the oven.
When soup is ready, blend it and serve to the plates.
Sprinkle with grated cheese and freshly ground peppercorns.
Serve with baguette slices on a side.
Serve 4-6 people.