Fist of all, thank you Everyone for all entires in this month edition of A Fruit A Month. It was a real pleasure to host this event, I only regret that I did not check when kumquats are in season so we could have more than 8 entries. If you want to know more about kumquats you can read it here.
Kumquat Glazed Chicken
by Maybelle's Mom of Feeding Maybelle
Delicious sweet and lemony chicken prepared with glazed Kumquat-Lime marmalade.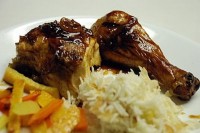 Kumquat Cake with Almond and Lavender Cream
by Jessica Voloudakis of Fearless Kitchen
Unusual mixture of flavours: kumquats, almonds and lavender that I would love to try out.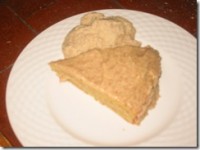 Sweet'n'Tangy Kumquat Daal
by Kaykat of Cooking from A to Z
Awesome dish prepared from mung beans, cherry tomatoes, green chillies, coriander and kumquats.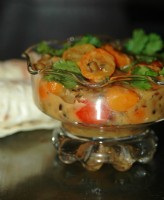 Kum, a whata?
by Denise of Ches US
Beautiful whole kumquats in sugarly bath.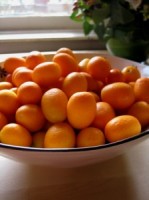 Mediterranean Sea Bass with Preserved Citrus
by Ann of Redacted Recipes
Very tempting dish with fish, olives, lemons and kumquats.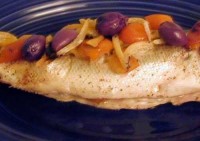 Tangerine Kumquat Rounds
by Peabody of Culinary Concoctions by Peabody
Amazing looking tangerine cookies, topped with kumquat slices and sprinkled with sugar crystals.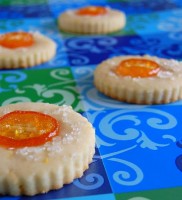 Kumquat-Basil Cooler
by Sunday Cook of Cooking 4 the Week
Very tempting cooler made of vermouth, soda water, kumquats and basil.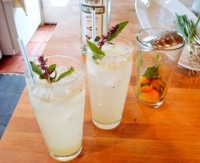 Kumquat Vanilla Marmalade
my own entry
First marmalade I have ever made, and surprisingly really good one.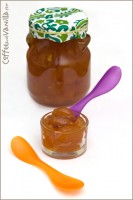 – – – – – – – – – – – – – – – – – – – – – – – – – – – – – – – – – – – – – – – – – – – – – – – – – – – – –
And here are couple of archival entries with kumquats which were posted earlier than in April 2008 but I decided to mention them, so we can all learn about kumquats and how to use them.
Best Ever Baked Cheesecake
by Nora of Life's Smörgåsbord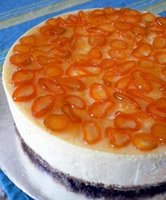 Kumquat and Vanilla Bean Pâte (Fruit Jelly)
by Zoë of Zoë Bakes


Cumquat Marmalade
by Haalo of Cook (almost) Anything at Least Once
Kumquat in Light Syrup
Sylvia of La Vida en Buenos Aires y Afines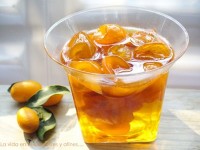 Kumquat Roulade Cake
by Zuzana of Zlamushka's Spicy Kitchen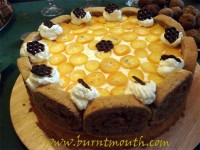 Coconut Lemonquat Tea Cake
by Susan of Food Blogga
Kumquat Ginger Caipirenha
by Lelo of Lelo in Nopo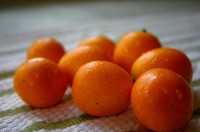 Kumquat and Mango Mojito
by Sig of Live to Eat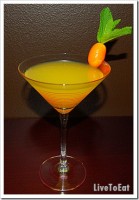 Kiwi Kumquat Salad with Key Lime Syrup
by Rachel of Coconut & Lime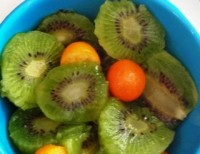 Yogurt Cake with Kumquat Marmalade Glaze
by Joey of 80 Breakfasts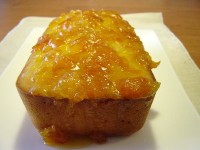 Lakshmi-Spiegel Green Chutney
by Brendan of Endless Simmer
Divine Cumquat Marmarlade
Vegeyum Ganga of A Life (Time) of Cooking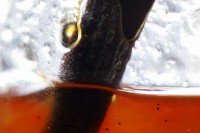 Gilbert's Kumquat Liqueur (Gin or Vodka)
by Fiona of Cottage Smallholder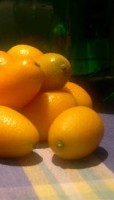 Preserved Kumquats
by Ann of Redacted Recipes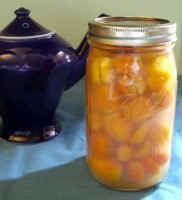 Kumquat Daiquiri
by Sunday Cook of Cooking 4 the Week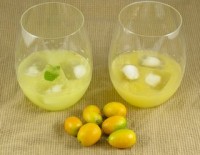 Kumquat Salsa Recipe
by Elise of Simply Recipes