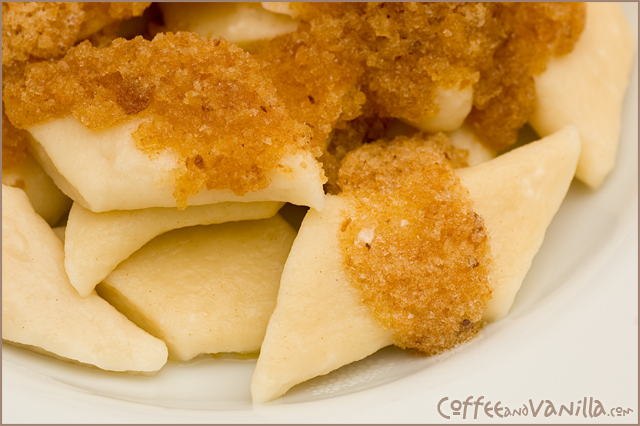 INGREDIENTS
800g hard half fat hard cottage cheese / curd cheese (mashed)
2-3 eggs (separated)
about 2½ cups plain flour
½ cup breadcrumbs
½ bar (125g) unsalted butter
salt
white granulated sugar
METHOD
In a large mixing bowl combine white cheese, yolks and half of the flour.
Beat egg whites and also add to the bowl, mix dough with hands slowly adding the rest of the flour.
Take out dough from the bowl and knead on floured surface till smooth and springy. If it will be too soft pierogi will fall apart during cooking, if it will be too hard pierogi will be difficult to eat ;)
In meantime prepare large pot of salted boiling water.
From the dough create 2 cm wide rolls, flatten them with your hand and chop with the knife diagonally.
Place some of them (only as much as can fit on the bottom of the pot) in boiling water, cook them for 3-4 minutes from the time they start floating on the surface. Remove them from the pot with drainer and place another portion of pierogi in the pot with boiling water.
When all pierogi are cooked serve to the plates.
In small saucepan heat over medium fire breadcrumbs for a while, add butter and continue heating till butter is bubbling. Pour over pierogi.
Serve sprinkled with salt, sugar or both (my favourite way).
They taste even better next day refried on butter.
Serve 4 people as a main dish.
* I'm not sure where the name "lazy" came from but I guess it is because there is very little work with them opposite to regular pierogi that take 2-3 hours to prepare.