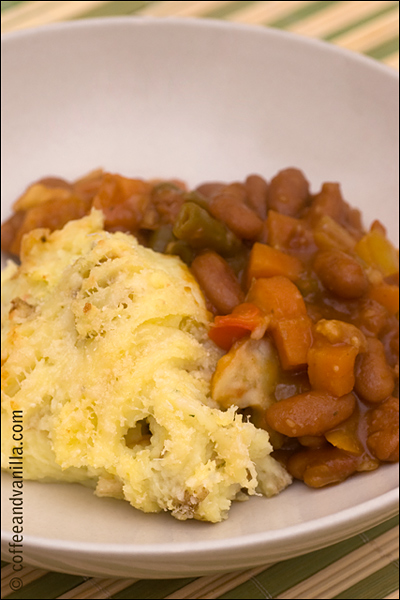 INGREDIENTS
for the topping
1½ kg potatoes
½ cup soured cream
1 tbs Vegeta or other vegetable stock granules or salt
4 tbs Parmesan or some other grated cheese
black peppercorns
for the filling
250g dry beans – I used crab's eye beans (previously soaked overnight and cooked until soft), you can use 3 x 400g tins of ready beans (drained)
250g green beans (chopped) or garden peas
250g carrots (diced)
2 bell peppers (diced) – I used red and yellow one
400g tin of chopped tomatoes
2-3 onions (chopped)
2-3 tbs oil – I used grapeseed oil
2 cups of boiling water
4 vegetable cubes (10g each)
2 tsp oregano
1 tsp garlic granules
1 tbs arrow root powder
EQUIPMENT
oven proof dish – I used rectangular 23×27cm, 4 l Pyrex
2-3 large pots
METHOD
Cook previously soaked beans until soft, leave aside.
In one pot cook potatoes in lots of water, drain, add soured cream, Vegeta and mash until smooth. Leave aside.
Dissolve vegetable cubes in 2 cups of boiling water.
In meantime on the bottom of another pot fry onions on oil, until golden brown. Add chopped carrots, green beans, peppers, cooked beans, oregano, garlic, cubes dissolved in water and chopped tomatoes. Bring to boil, reduce fire, cover and simmer until carrots and green beans are soft. Stir in arrowroot powder.
Transfer mixture into baking dish. Top evenly with mashed potatoes, scratch with the fork for stripy design, sprinkle with Parmesan and freshly ground pepper. Bake in the oven preheated to 200°C (392°F) until golden on the top.
Serve warm with some salad on the side.
Make 6 servings.