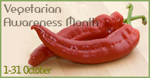 This is my entry for Vegetarian Awareness Month organized by World Vegetarian Day. Click here to learn how to submit your entry.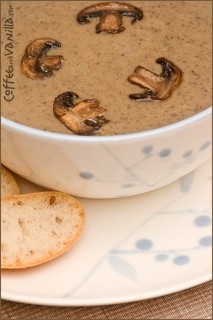 Creamy Mushroom Soup
INGREDIENTS
700g open cup white mushrooms (sliced)
3 litres water
4 vegetable cubes (10g each)
30g unsalted butter
3 small carrots (chopped roughly)
2 large onions (chopped roughly)
2 tsp garlic granules
½ tsp ground black pepper
3-4 small potatoes (sliced roughly) – to make soup thicker
½-1 cup single cream (125 ml)
4 ciabatta rolls or home made bread
METHOD
In a large pot bring water to boil, add cubes, carrots, onions, garlic granules, black peppers, potatoes and half of the mushrooms. Cover and cook on high fire. The rest of the mushrooms fry on butter till golden brown.
Leave some aside for garnish and add the rest to the pot.
Cook for about an hour.
Remove from fire, stir in cream and blend till soup is almost smooth.
Serve to the bowls, garnish with fried mushrooms and put on a side sliced ciabatta rolls or slices of homemade bread.
Serve 4-6 people.