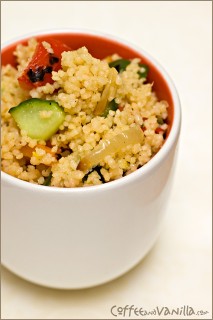 INGREDIENTS
3 huge or 6 small bell peppers (red, yellow and red)
500g couscous
1 large English cucumber (cubed)
1 onion (chopped finely)
1 small garlic head (peeled and sliced)
3 tbs olive oil
1 tsp dried oregano
black peppercorns
1½ tbs Vegeta or other vegetable stock granules
more olive oil
hot boiled water
EQUIPMENT
large, deep frying pan or wok
gas cooker
tongs
container with lid, plastic bag or bowl and a plate
METHOD
Burn peppers over gas until each side is black. Place in container, cover with lid, let them steam for about 10-15 minutes. Rub of with your hands some burned skin, but not all. Deseed and chop, leave aside.
In meantime chop cucumber, onions and garlic.
In a frying pan heat oil, add garlic and onions, fry until golden brown.
Add also couscous and heat it stirring all the time. Add also Vegeta, oregano and gradually hot water,  stirring constantly. When couscous is soft add also cucumber and roasted peppers. Stir again, season to taste with freshly cracked pepper and some more olive oil if it is too dry.
Serve hot or cold.
Serve 5-6 people.