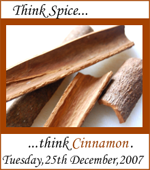 This is my entry for "Think Spice… Think Cinnamon" event.
If you want to join as well visit Sunita's World and send your entry by 25th of December.
Cinnamon & Vanilla Cookies
INGREDIENTS
250g unsalted butter / 1 bar (softened)
2⅔ cups plain flour
½ cup golden caster or soft light brown sugar
2 tbs vanilla sugar
few tbs vanilla sugar mixed with ground cinnamon, burnt orange & cinnamon sugar or caster sugar mixed with ground cinnamon
EQUIPMENT
cookie cutters
non-stick baking trays or sheets
METHOD
Combine butter, flour, sugars and knead with your hands till dough is smooth and sticky.
Divide it into 2-3 portions and place in the fridge for about an hour.
Preheat oven to 175°C (350°F).
Take out from the fridge one portion of the dough, cut into 5mm slices and cut out cookies.
If dough is sticky, pass knife under the cookie with cutter before removing it.
Deep top side of the cookies in cinnamon sugar, then place on baking tray lined with teflon sheets.
Bake for 15-20 minutes till golden. Leave aside to cool down.
Repeat the same with the rest of the dough.
This recipe make about 60 cookies, 4 cm / 1,5 inches wide.