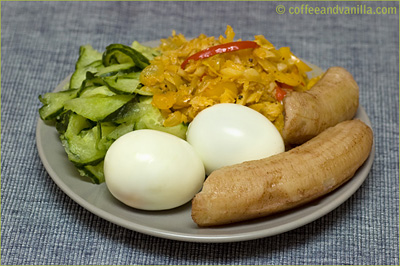 INGREDIENTS
300g skinless and boneless saltfish / salt fish (soaked overnight or at least 8 hours, rinsed, drained and flaked or chopped)
1-2 red/yellow bell peppers (sliced) or some tomatoes (cut into wedges)
large onion (chopped)
Caribbean curry powder
black peppercorns (freshly cracked)
oil to fry (we used grapeseed oil)
large English cucumber (sliced on grater)
4-8 eggs (hard boiled)
4-6 very green bananas (in Dominica called figs)
EQUIPMENT
large frying pan or wok to fry fish
old pot to cook green bananas
another pot to cook eggs
METHOD
Put eggs in water and cook until hard boiled.
Fry onions on oil until golden, stir in flaked saltfish, curry powder and black pepper to taste and cook for a while longer, then add peppers and cook some more until soft to your liking.
In meantime cook green bananas in old pot full of water, you would not want to use any new pot as sticky black juice from bananas will be very hard or impossible to clean. It is better to have special old pot to cook only bananas. You can cook them either in the skin and remove it later or peel bananas with oiled hands (otherwise they will turn black for many days), until soft when pierced with a fork. Take them out from the water and share to the plates on a side wish saltfish, hard boiled eggs and grated cucumber. Enjoy!
Serve 4 people.
If saltfish is hard to flake, pour over the fish boiling water and soak for 5 minutes.
Cucumber can be replaced with Coleslaw salad, and if you in a hurry green bananas can be substituted with some crunchy bread.