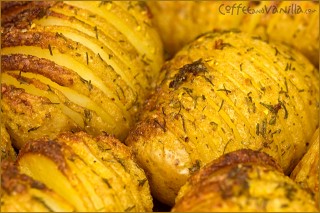 INGREDIENTS
1.5kg new potatoes
5 tbs Carotino or olive oil
2 tsp Vegeta seasoning, other vegetable stock powder or sea salt
2 tsp garlic granules or some fresh minced garlic
2 tsp dried dill
EQUIPMENT
baking tray lined with non-stick Telfon sheet
silicone brush
METHOD
Combine oil, Vegeta, garlic and dill. Make in each potato cuts ⅔ way every 2 mm. Place them on baking tray and brush with oil mixture using silicone brush. Bake in the oven preheated to 180°C (356°F) until golden brown on outside and soft inside.
Serve 4-5 people as a side dish.
Taste good with roasted fish and some cherry tomatoes on a side.