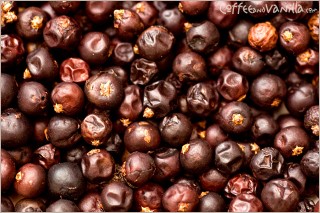 Do you remember the quiz I posted last week?
Quiz # 6 – Prize: Two Cookbooks by Mary Berry
The correct answer was: Juniper berries. You can read more about there here.
Thank you Everyone for participating.
The most common answer except Juniper berries were cranberries.
Now it is the time to announce randomly selected winner…
And the winner is lovely Rosie of "Rosie Bakes A 'Peace' of Cake" and recently new blog called "Baking Cakes Galore" from Lincolnshire, UK.
Congratulations Rosie! I will pass your details to the publisher who will ship the prize: cookbooks by Mary Berry: Traditional Puddings and Desserts and Supper for Friends to you.
And for those that did not get a chance to win I have a good news, I will be hosting another quiz shortly, so visit again soon!