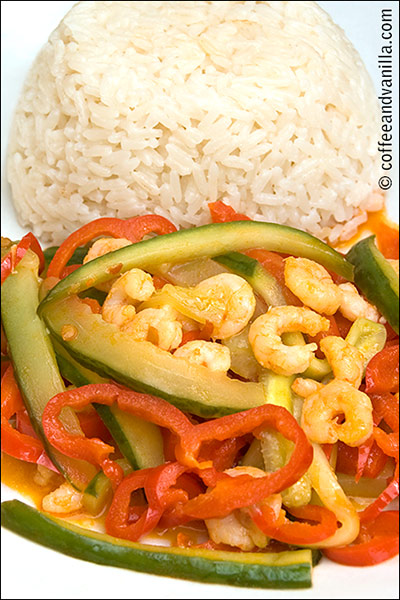 INGREDIENTS
400g cooked and peeled small prawns or shrimp
3 tbs olive oil
1 tbs Sambal Oelek chilli sauce
1-1½ large lemon juice
1-1½ tbs caster sugar
3 pinches sea salt
2 tsp garlic puree
2 sweet pointed red peppers (finely sliced)
¾-1 large English cucumber (cut into batons)
METHOD
Prepare marinade mixing lemon juice, chilli sauce, garlic puree, caster sugar and olive oil.
Pour over prawns and put aside for a longer while.
Then stir fry prawns in a wok till marinade will get thicker.
Add peppers and fry 1 more minute, then add cucumber and fry 2 more minutes.
Serve over coconut rice prepared from 2 cups of rice.
Serves 4 people.
More recipes calling for prawns: