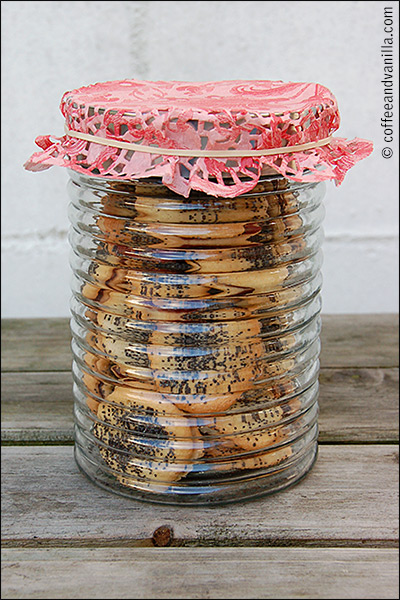 Baletki means ballet shoes in Polish and I'm not sure where the name come from… maybe because the biscuits are so light and fluffy.
INGREDIENTS
6 – 7 eggs (egg whites and yolks separated)
2 cups plain flour
1 cup golden caster sugar
1 tbs vanilla extract
1 tbs baking powder
3 tbs poppy seeds
about 150 g mixed fruit jam (strawberry conserve or guava jelly will work well in this recipe as well)
EQUIPMENT
baking trays lined with non-stick baking sheets or baking paper
food processor with whisk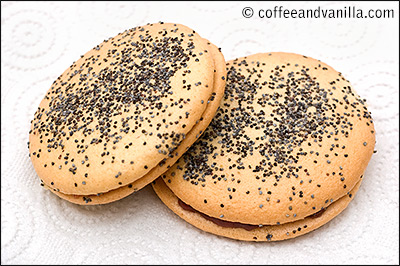 METHOD
Using food processor beat egg whites and sugar together untill stiff.
Stir in also yolks.
Then gradually add flour, baking powder and vanilla extract.
With a tea spoon place small portions of the dough on the baking trays (lined with baking paper) creating round biscuits, leave spaces between them as they will grow.
Sprinkle each biscuit with poppy seeds.
Bake in 170°C (338°F) for about 10-15 minutes until golden.
Remove from the oven, let them cool down completely, then peel of the paper.
Stick pairs of similar size biscuits together adding a bit of jam in between them.
Store in airtight container and enjoy.
Makes about 6 trays of biscuit halves.
NOTES
Trying to recreate my sister's favourite cookies from Poland I came up with this recipe, based on a sponge cake dough. The biscuits turned out quite close to the original taste although the texture of the cookie dough itself should be a bit more crumbly…