INGREDIENTS
3 cups plain flour
1½ tsp baking powder
½ cup thick maple syrup
¼ cup milk
150g unsalted butter (cubed)
⅓ cup poppy seeds
3 tbs icing sugar
3 tbs hot water
some more flour for the working surface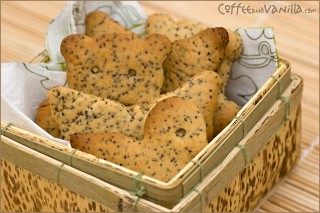 EQUIPMENT
two large baking trays
two non-stick baking sheets or baking paper
silicon brush
small rolling pin
cookie cutters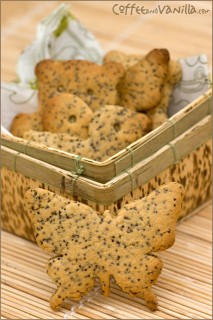 METHOD
In a mixing bowl combine butter, maple syrup, milk and poppy seeds. In another bowl stir flour with baking powder and add to the butter mixture as well. Knead the dough only until well mixed, divide into two balls. Place one in the freezer for couple of minutes, till you are ready to use it. on Second one roll out on lightly floured surface with rolling pin until about 4 mm thick. Cut out cookies, place on baking trays lined with non-stick sheets or paper. Repeat the same with the other portion of dough.
Bake cookies in the oven preheated to 180°C (356°F) until golden.
Brush with icing sugar dissolved in water when still hot, leave to cool down completely.
Make about 60 medium cookies.
My 3 years old daughter was helping me with cutting out the cookies.
If you like sweeter cookies, skip milk and use ¾ cup maple syrup instead of ½ cup.