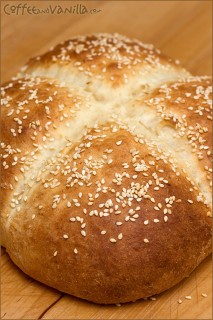 INGREDIENTS
8 eggs
2 small onions (chopped finely)
4 small tomatoes (cubed)
2 tbs of unsalted butter
liquid Maggi seasoning to taste
2 tbs dried oregano or marjoram
fresh bread rolls to serve (I used Aunt Kate's Roll Mix from Food Storage Depot), read more under the recipe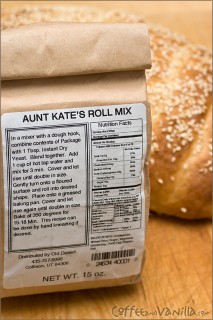 EQUIPMENT
large non-stick frying pan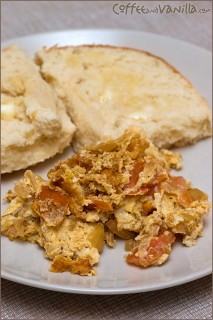 METHOD
Fry onions on butter until golden brown, stir in also tomatoes, herbs and Maggi and fry some more, until tomatoes are soft. Add eggs and fry until ready. Share to the plates with some buttered fresh bread rolls.
Serve 4 people.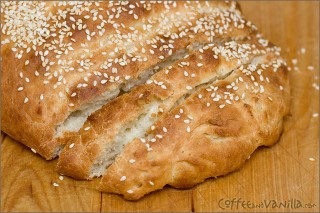 This is typical Polish breakfast, my father always used to buy fresh bread rolls for breakfast. Unfortunately I live now far away from him and Warsaw, where I grew up and for some reason bread here does not taste the same to me… So when I was contacted by Food Storage Depot to test bread roll mix I agreed immediately… and I don't regret this decision, they were the best bread rolls I had in a very long time… soft, melting in your mouth but not full of air like most of the bread rolls sold in the shops nowadays. The other plus is that they are very easy to prepare, all you have to do is to ad 1 tbs active yeast, 1 cup of warm water, knead it for couple of minutes and wait for the dough to double size, then 15-18 minutes in the oven and you are done! Fresh, delicious bread is ready to eat. I tried one package of the mix (enough for 4 people) yesterday, made one big roll and sprinkled it with sesame seeds (from my cupboard).  This morning I woke up before everyone to bake another one for breakfast! Again I made one big roll, but divided it with the knife in four so it was easy to share, both husband and kids loved it.
Food Storage Depot provide food supply that can be used as emergency food supply and simply for those that don't have easy access to the shops. They provide complete food supply for the whole family from 1 month to even 1 year. If I was living in US, I would definitely consider ordering supply for them for my parents, that live far away from us and shops… and many times I think how they cope with every day shopping.