Persimmons are light yellow – orange to dark red – orange in color fruits with hard, crunchy, similar to date, edible skin. Their flesh is very sweet, soft and its fibrous texture resembles a little bit pear and plum. They can be eaten raw, dried or cooked.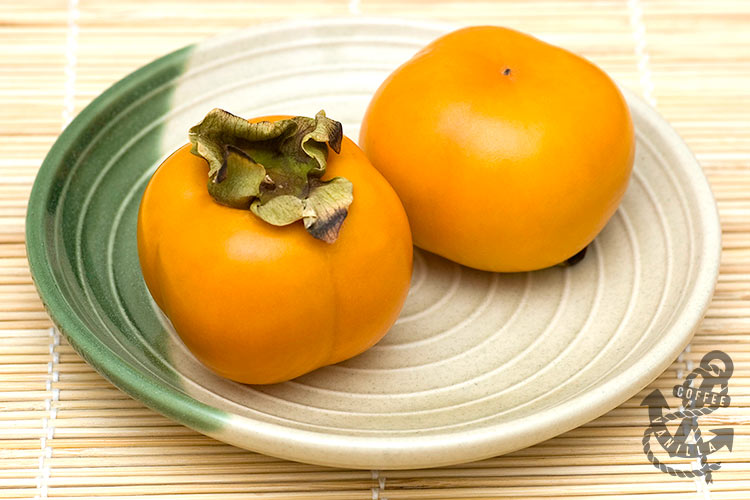 The most widely cultivated species is the Japanese Kaki Persimmon or Kaki (Diospyros kaki), called "shizi" in Chinese. This species, native to China. Cultivation of the fruit extended first to other parts of east Asia, and was later introduced to California and southern Europe in the 1800s. It is edible in its crisp firm state, but has its best flavor when allowed to rest and soften slightly after harvest. The Japanese cultivar 'Hachiya' is a widely grown cultivar. The fruit has a high tannin content which makes the immature fruit astringent and bitter. The tannin levels are reduced as the fruit matures. Persimmons like 'Hachiya' must be completely ripened before consumption. When ripe, this fruit comprises thick pulpy jelly encased in a waxy thin skinned shell. Sharon Fruit (named originally after Sharon Plain in Israel) is the trade name for D. kaki fruit that has been artificially ripened.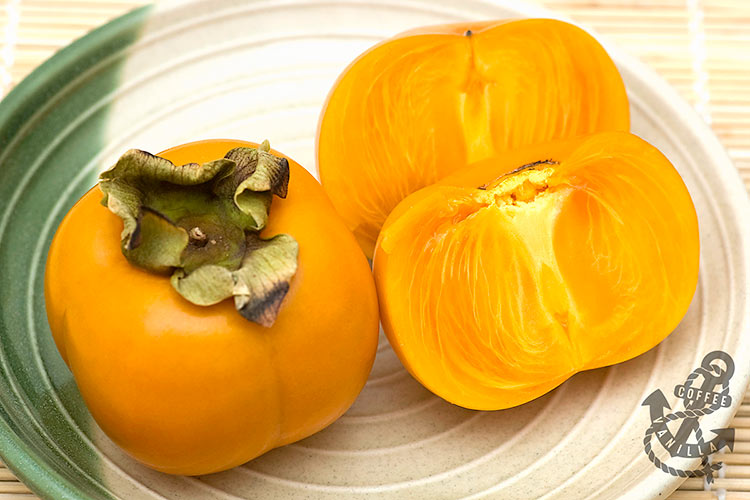 The American persimmon (Diospyros virginiana) is native to the eastern United States.
The Black Persimmon or Black Sapote (Diospyros digyna) is native to Mexico. Its fruit has green skin and white flesh, which turns black when ripe.
The Mabolo or Velvet-apple (Diospyros discolor) is native to the Philippines. It is bright red when ripe.
The Date-Plum (Diospyros lotus) is native to southwest Asia and southeast Europe. It was known to the ancient Greeks as "the fruit of the Gods", i.e. Dios pyros (lit. "the wheat of Zeus"). Its English name probably derives from Persian Khormaloo – literally "Date-Plum", referring to the taste of this fruit which is a reminiscent of both plums and dates. This species is mentioned in the Odyssey; it was so delicious that those who ate it forgot about returning home and wanted to stay and eat lotus with the lotus-eaters.
Spanish Persimon® Rojo Brillante variety is more orange than yellow, it seems also bigger and sweeter to other ones we have tried previously.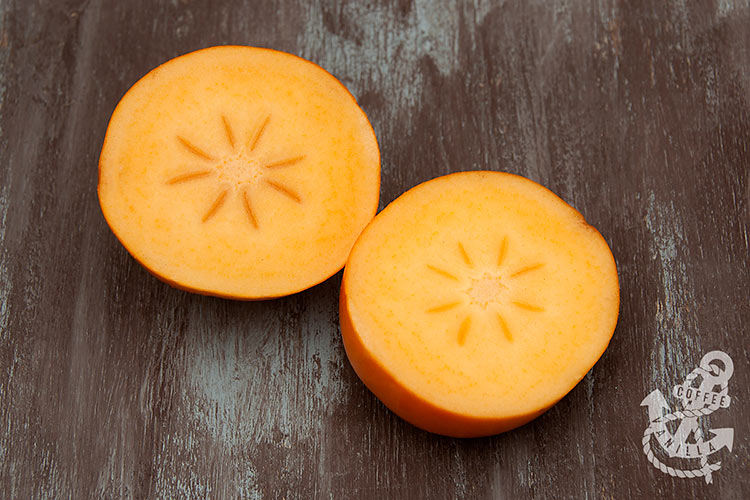 There are many other species of persimmon that are inedible to humans, and thus have little or no commercial value for their fruit.
NOTES
Most information source: Wikipedia.
Photo of the Rojo Brillante variety has been featured first on Coffee & Vanilla as a part of Tried & Tested series.