Couple of days ago Michael and I went the Olive Grove  – family run Mediterranean steak & tapas tavern located in the heart of Brighton's historical Lanes, only few minutes away from North Road and the seafront.
They have opened quite recently, back in September 2015, so if you haven't pay them a visit yet, they are definitely worth keeping in mind for future occasions.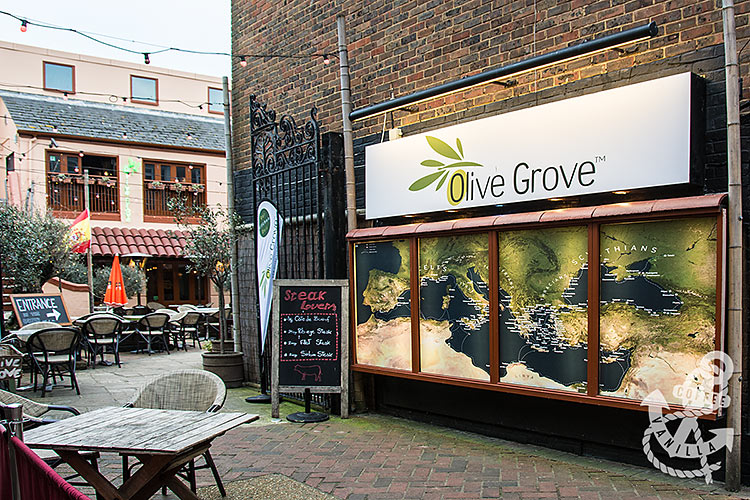 Olive Grove is spacious, with two levels, real olive trees and generous outdoor space.
Additionally, the venue is family friendly and has function rooms available as well.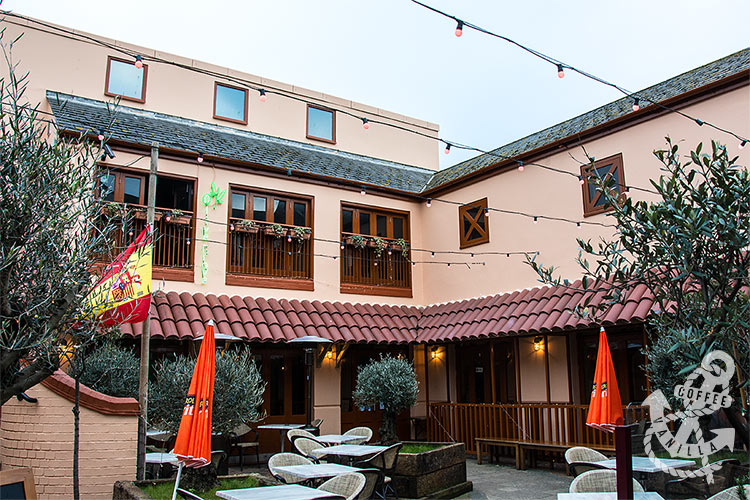 We visited in the middle of the week just after work (to catch still some natural light for the photos) so it was quite empty at first but the restaurant started filling with guests towards the evening.
I can imagine how busy it will get when proper spring and summer will arrive, especially that the prices of coffee are comparable to nearby cafes and dishes cost about the same as fish and chips.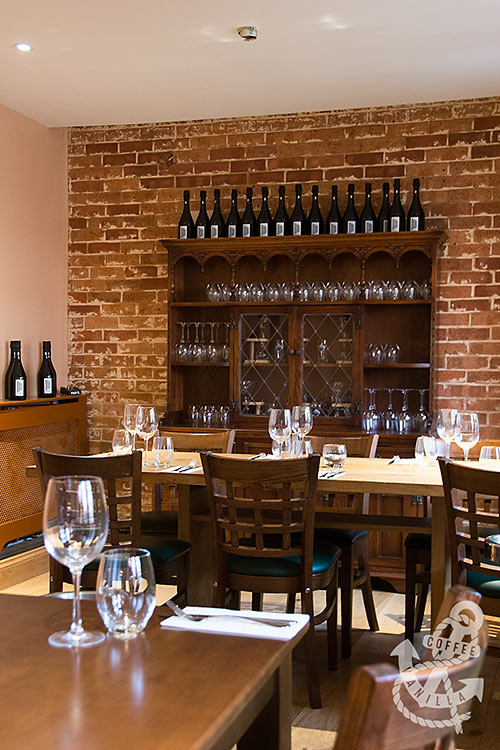 We were served selection of small palates from the Chefs Tasting Menu (£19.90 per person) along bottle of sparkling mineral water (on our wish, instead of wine) followed by seafood, lasagnas, desserts and coffees.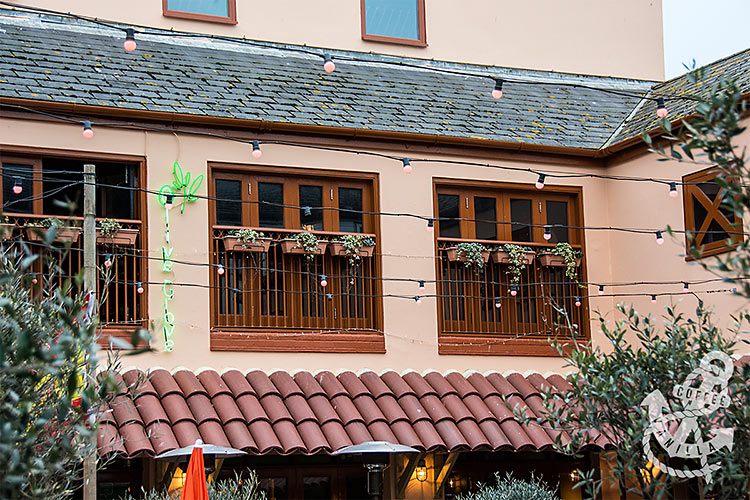 Olive Grove serves combination of Mediterranean cuisines, from Greece, through Italy to Spain and Portugal. Therefore you can't really go wrong with this… everyone must find on the menu something to their linking.
We started with bruchettas… one was topped with tomato and feta cheese the other one with roasted aubergines. While we loved them both Michael was a bit more on the smokey aubergine side and I preferred the tangy tomato.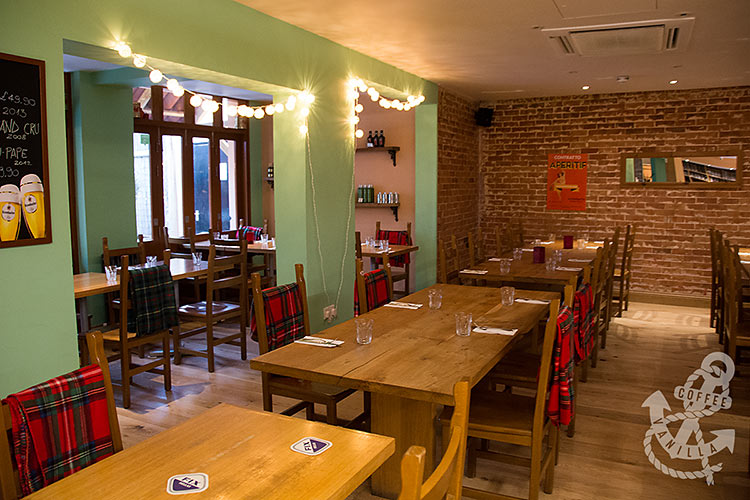 After that we tasted some deep fried goodies arranged on bed of moreish fried courgette and carrot.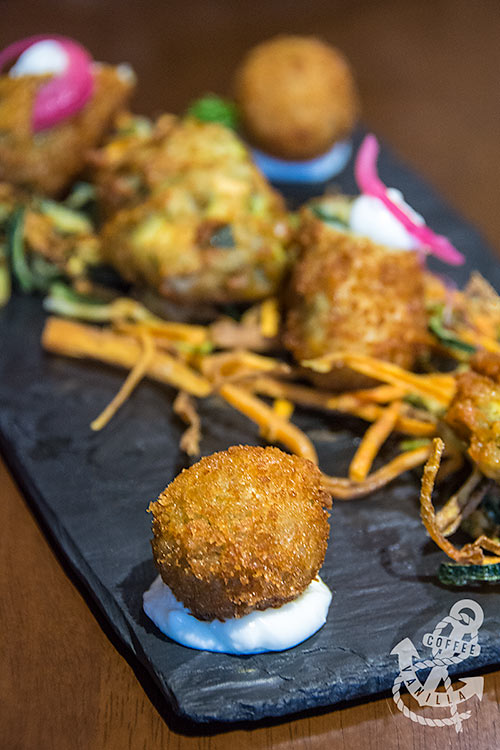 I haven't tried stuffed olives with spicy sausage but Michael seemed to enjoy them a lot.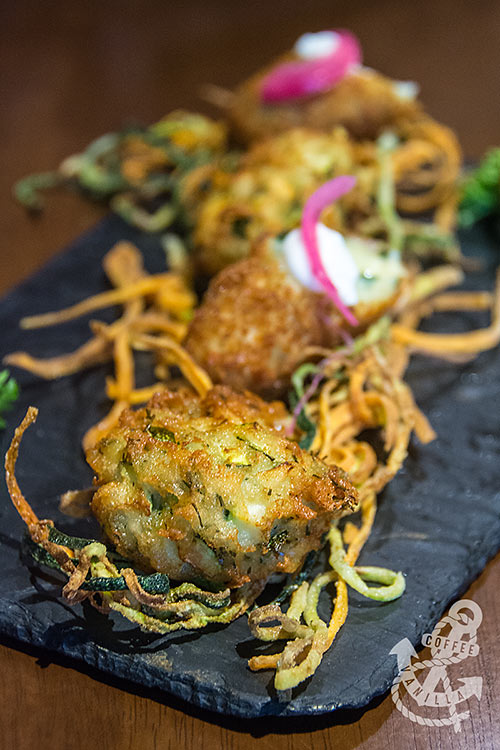 But I absolutely adored Greek kolokithokeftedes (courgettes & feta fritters) and Italian cheese croquettes. They were deep fried to the perfection being crunchy on the outside, soft on the inside and not oily.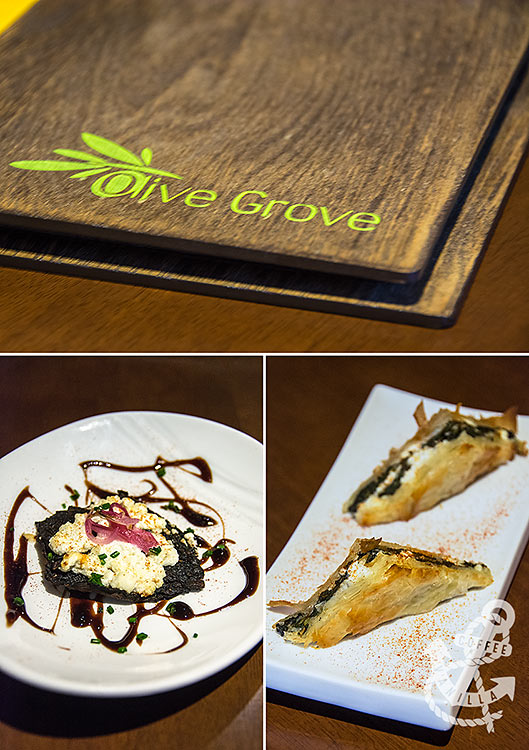 We savoured also stuffed Portobello mushrooms topped with feta and spring onions and drizzled with balsamic vinegar and mini spanakopita – heavenly Greek spinach pie in crunchy pastry.
Next arrived mouth watering parmigiana – sliced aubergine with tomato sauce and cheese and traditional Italian lasagna made with minced beef.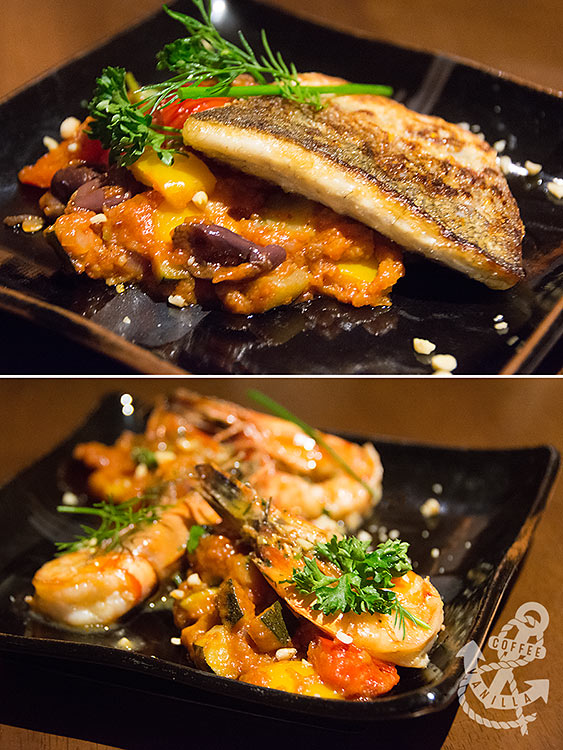 Besides we got taste of catch of the day & caponata (£10.90). Michael devoured prawns while I had pan fried fish, both served over scrumptious caponata made out of aubergines and other Mediterranean veggies in rich tomato sauce.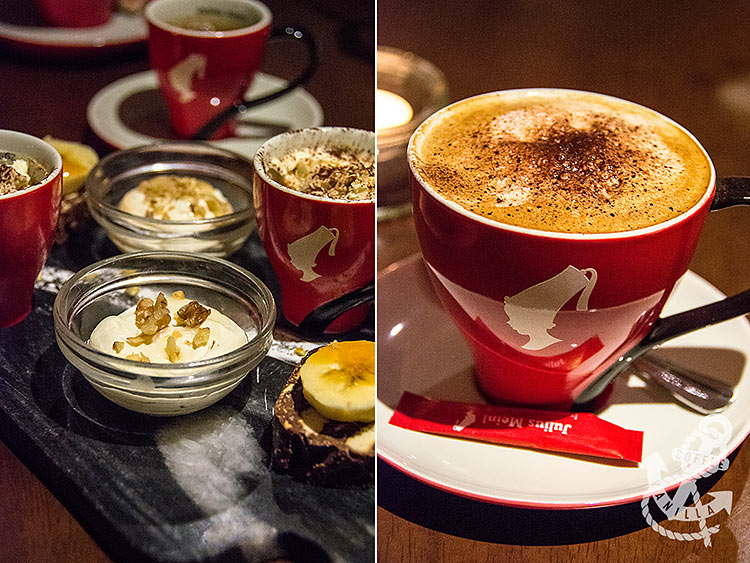 To finish off the evening we were presented with dessert selection platter, including salami chocolate topped with caramelised banana and honey, traditional tiramisù and Greek yoghurt mousse topped with honey and nuts, accompanied by coffees…
I went for traditional (small and strong) Greek coffee (£2.50) and Michael had cappuccino (£2.50).
From desserts the yoghurt was my personal favourite, I could easily have it for breakfast, lunch and dinner. For Michael the non-alcoholic and very creamy tiramisù was the best part. I can imagine that if you are visiting with kids, the chocolate salami would be perfect to order as a dessert.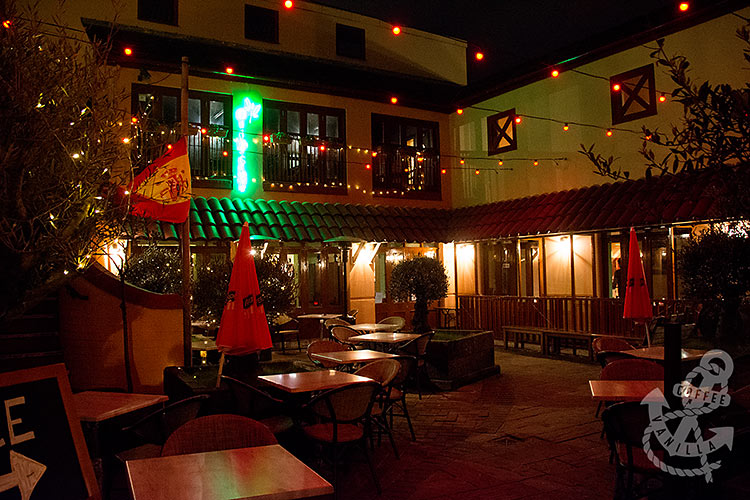 Overall Olive Grove is possibly the best Mediterranean restaurant we have visited so far, the prices are reasonable and dish selection to suit all tastes. The venue is spacey, comfortable, clean and in a great location. It has relaxed atmosphere and  the service is friendly and professional. We will definitely visit again.
But don't take our word for granted as our opinion could be biased considering the fact that Brighton is a small town where almost everyone know each other, read reviews of the restaurant on the Trip Advisor website… other people seem to love it as much as we did.
OLIVE GROVE
15 – 18 Meeting House Lane
Brighton, BN1 1HB
phone: 1273 722325
NOTES
You can find this review between our other reviews on Google Local, Trip Advisor & Zomato (former Urbanspoon) websites.
For alternative views on Olive Grove please read Lauren's review on her blog – Belle du Brighton.
DISCLOSURE: We enjoyed this complimentary meal on the 15th of March 2016 as guests of Olive Grove.  All opinions expressed here are our own and we retained full editorial control.