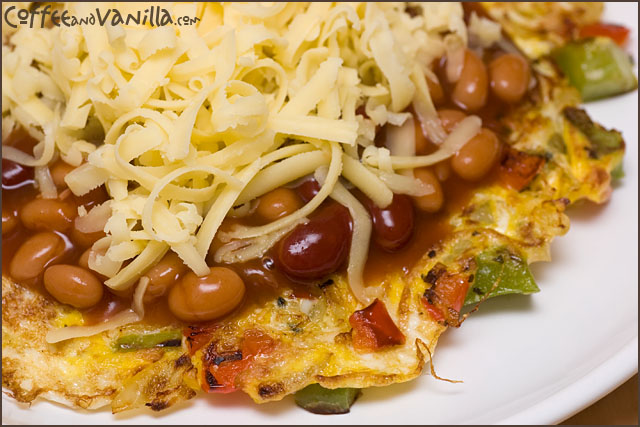 INGREDIENTS
1 medium onion (chopped)
½ sweet red or orange bell pepper (chopped)
½ sweet green bell pepper (chopped)
400g tin of Mexican style haricot & red kidney beans in spicy tomato sauce
1-2 tbs fresh / frozen coriander / cilantro (chopped)
grated cheese
3 tbs grape seed or Carotino oil
6 eggs
salt
splash of hot sauce (I used Sambal Oelek) – optional
METHOD
Fry ⅓ veggies for a while on 1 tbs oil, add 2 eggs and stir, season with salt. Fry on both sides.
In meantime season beans with hot sauce and warm them up in a microwave.
When eggs are ready serve to the plate, pour over ⅓ beans and sprinkle with ⅓ grated cheese.
Repeat the same twice with other 4 eggs.
Serve with toasted bread.
Makes 3 omelettes.