Lunchbox # 74 (for 4½ year old girl)
teddy shaped sandwich made of toasted bread, butter and chicken ham (decorated with red pepper smile and kabanosy eyes)
baby plum tomatoes separated from sandwich with grass divider
heart shaped hard boiled egg, halved, in silicone muffin cases
mini crackers, kabanosy and cheese cubes on food picks
strawberries, red and white grapes with leafy food picks
tropical juice with a straw
2 wipes wrapped in aluminum foil with stickers (not pictured)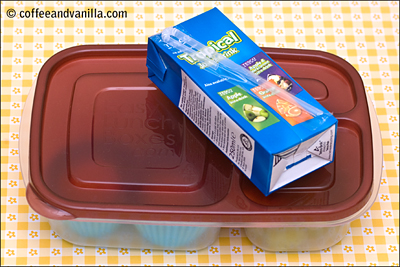 Everything closed in an Easy LunchbBox and placed together with large ice pack inside insulated Easy LunchBag.
More lunchbox ideas can be found here: Lunchbox Food.
And here you can read about Packing Children Lunches.
Some of the lunchbox accessories can be found in my Amazon aStore.
---
This is my entry for my own event: "Wholesome Lunchbox". If you want to participate, please send link to your entry before 15th of each month.