Lunchbox # 34 (for 4 year old girl)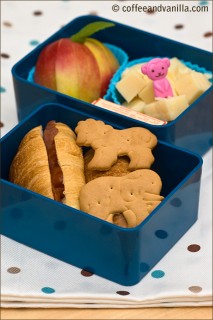 2 sandwiches made of mini croissants, butter and kabanos (Polish dry sausage)
lion and elephant shaped biscuits
½ apple (sliced, with pretended leaf from mint) in silicon muffin case
cubed cheese in silicone muffin case with mini fork / food pick
small box of raisins and dried apricots
small bottle of fruit juice (Summer fruits)
mini fromage frais + spoon
Lonely Tunes tissue package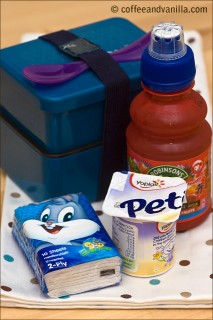 Everything closed in a lunchbox with a strap, placed together with large ice pack in an insulated lunch bag.
At the same time when I'm making lunchboxes for my 4 year old girl I'm preparing second lunchbox for 14 year old boy. They contain double-triple amount of almost the same things just not made to look cute, in plain transparent clip box (on request) with large gray ice pack. I replaced also animal shaped biscuits with regular malted biscuit and some mini tamarind balls.
More lunchbox ideas can be found here: Lunchbox Food.
And here you can read about Packing Children Lunches.