Lunchbox # 17 (or rather late breakfast for 2 year old girl)
I post it under lunchboxes as it is hard to tell the difference between lunches and breakfast I made for my 2 year old daughter.
I the mornings usually she drinks only milk and then about noon I'm preparing for her late breakfast / lunch ;)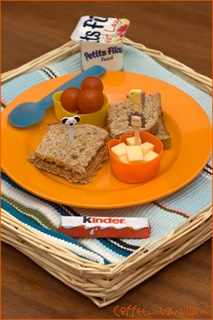 mini (60g) peach yogurt
cherry tomatoes
wholemeal toast with unsweetened peanut butter and guava jam / jelly (folded and cut in two)
mild Cheddar cheese (cubed)
small Kinder milk chocolate bar
cup of freshly squeezed orange juice diluted with water (not pictured)
More lunchboxes coming soon…. some already existing recipes for Lunchbox Food you can find here.
---
This is my entry for WBB (Weekend Breakfast Blogging) # 20 – Balanced Breakfast hosted this time by Mansi from Fun and Food.
If you want to participate, please follow the link above to read the guidelines.
Closing date is the end of March.