Kopytka (little hooves) is traditional Polish side dish made out of mashed potatoes and flour. I used to love it as a child… and I still do, but my girls love it even more (!)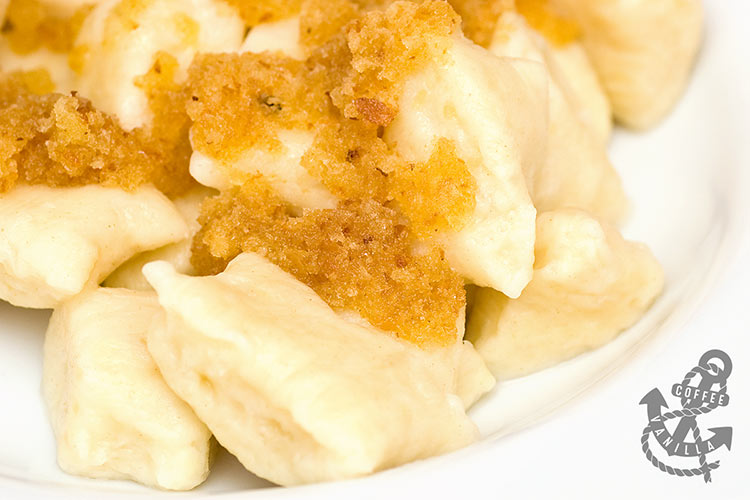 INGREDIENTS
1½ kg large potatoes (peeled, cooked and mashed before and stored in the fridge)
3½ cups plain flour +some more for working surface
3 large eggs
salt
EQUIPMENT
large flat pot
slotted spoon
METHOD
Bring large pot of water to boil.
Mix potatoes with flour and eggs, season with salt.
Knead dough fast on floured surface, do not let it to get warm because it will turn soft and sticky.
Create 2 cm wide rolls, flatten them with your hand and chop with the knife.
Place some of them (only as much as can fit on the bottom of the pot) in pot of boiling water, cook for 3 – 4 minutes from the time they start floating on the surface.
Remove kopytka from the pot using slotted spoon and place another portion in the pot.
When all kopytka are cooked share to the plates and top with your favourite topping. Optionally refry before sharing to the plates.
Serves 5 people as a main dish or many more as a side dish.
TIPS
Serve as a side dish with Fried Chicken Livers for instance or itself topped with breadcrumbs and melted butter, caramelised onions.
To prepare the breadcrumbs: in a small saucepan heat ½ cup breadcrumbs, add 125 g (half a bar) butter, 2 tsp sugar and 2 pinches of salt, continue heating until butter is bubbling).
Kopytka taste even better refried on butter, either savoury with caramelised onion or sweet with breadcrumbs.