[recipe by my sister Jola]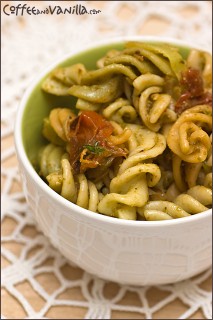 INGREDIENTS
750g tricolore or wholemeal fusilli (cooked in slightly salted water and drained)
1½ jar good quality green pesto
6 large fresh tomatoes (cut into small wedges)
1 medium leek (washed and sliced)
½ garlic head (cloves peeled and chopped)
2 tbs Carotino or olive oil
300g jar sundried tomatoes (drained and chopped)
black peppercorns
sea salt – optional
lots of fresh basil leaves (chopped)
METHOD
In a large bowl combine cooked pasta with pesto.
In meantime mix fresh tomatoes, leek and garlic with oil, place on baking tray and grill in 170°C (338°F) until vegetables are starting to get brown. Add them to the bowl with pasta. Stir in also chopped sundried tomatoes. Season with fresh basil leaves, sea salt if needed and freshly cracked pepper, lots of pepper.
Serve cooled down or even stored in the fridge overnight.
Serves about 10-12 people.