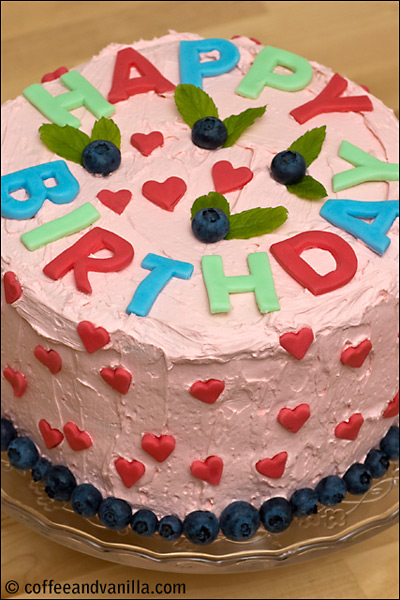 INGREDIENTS
for sponge cake
1 cup egg whites and ½ cup yolks, about 6 small eggs
1 cup golden caster sugar
1 cup plain flour
pinch of salt
1¼ tsp baking powder
1-2 tbs unsalted butter (softened)
for layers
800g (a little bit less if not used for decoration) strawberries, blueberries and green seedless grapes or other fruits of your choice (washed, drained and hulled, sliced)
6 tbs jam of your choice (I used apricot jam)
900 ml whipping cream
1¼ cup golden caster sugar
food colouing – optional (I used red food colouring to make whipped cream pink)
for decoration
some of the fruits
fresh mint leaves
colourful icing or white icing + food coluring – optional
little colourful candies, sprinkles or other ready cake decorations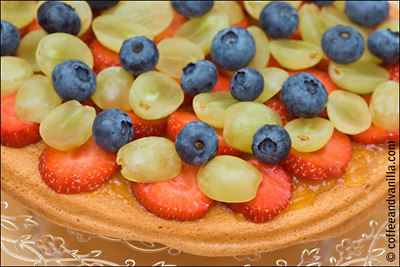 EQUIPMENT
9" (22,8 cm) round non stick cake tin with removable bottom or even better 3 of them
spatula
food processor to beat eggs and whip the cream
cake stand or disposable cake base
alphabet cookie cutters to cut out text from the icing – optional
heart shaped mini cookie cutter – optional
icing syringe to decorate around the cake base and on the top age – optional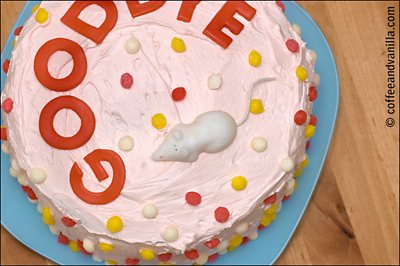 METHOD
To prepare sponge cake beat in a food processor egg whites with salt until stiff, add sugar and beat some more. Stir in also yolks. In a small bowl combine baking powder and flour and gradually add it to the egg mixture only until well mixed. Pour it into buttered cake tin (if you are using 3 tins make sure that you put even amount of cake dough in each of them) and bake in preheated oven to 180°C (356°F) for about 25-30 minutes, until golden. Remove from the tin and let it cool down.
In meantime choose some fruits for decorations if you are planning to use them and set aside. Then slice the rest of strawberries, half grapes and prepare whipped cream.
To make whipped cream mix cream, colouring and sugar, using food processor, until thick.
When sponge cake is cooled down completely, cut it into 3 layers if you used 1 tin, using very sharp knife.
Place first layer (top one) upside down on the cake stand or cake base. Spread half of the jam on it with spatula, arrange half of fruits on the top and cover with ¼ of the whipped cream.
Place another layer of sponge cake (middle one) on the top of it, spread the rest of the jam, arrange the rest of sliced fruits and top with ¼ of the whipped cream. Cover with the last layer (bottom one) of sponge cake, turn it upside down so the hard part is on the top. Spread left whipped cream on the top and sides of the cake. Now decorate cake with previously cut out icing letters, fruits and mint leaves or sugar cake decorations.
Place in a fridge and let it cool down for about 2 hours.
Make about 12-18 servings.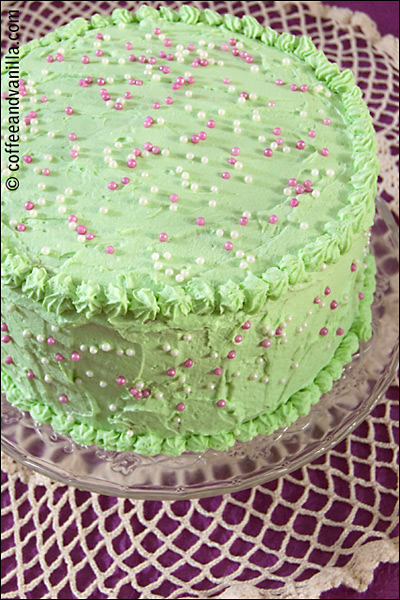 NOTES
I made this cake twice last week,  "Goodbye" one with candies and sugar mouse for the end of my daughter's preschool and then again "Happy Birthday" one decorated with blueberries and mint leaves for my daughter's birthday party.
Then I made the same cake again, this time in green colour for my mother's in law 60th birthday, it was decorated with little white and pink sugar pearls.
You can bake sponge cake night before and keep covered until morning when you can assemble the cake. You can also make the whole cake night before, it will be still tasty next day.
On one of the cakes I used mini candies and sugar mouse I won in monthly Local Food Advisor prize draw together with the whole treasure chest from The Oldest Sweet Shop in England. You can read more about it here.