[recipe adapted from Jeanne's Cook Sister]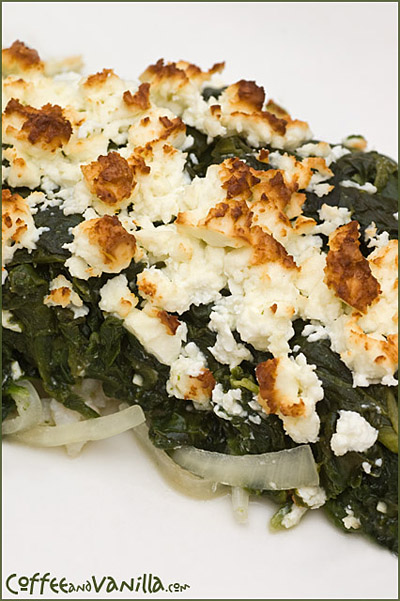 INGREDIENTS
1 kg frozen white fish fillets (defrosted completely, drained)
1 kg frozen spinach
2 tbs garlic puree
200g feta cheese or Greek salad cheese
1 onion (thinly sliced)
3 tbs olive oil
1 tbs Adobo seasoning
black peppercorns
1 tbs fresh or frozen dill
EQUIPMENT
baking dish lined with Teflon sheet
INGREDIENTS
Combine spinach and garlic puree in a sauce pan or wok and fry till defrosted and there is no more water.
Place fish fillets on the bottom of baking dish, sprinkle with olive oil and Adobo seasoning.
Top with sliced onions, season with freshly ground pepper. At the end top with spinach and crumbled feta.
Bake in 180°C (356°F) for about 40 minutes till fish is ready and feta start getting brown.
Serve with pasta and cherry tomatoes on a side.
Serve 5 people.