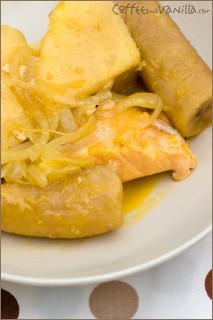 INGREDIENTS
6 green bananas (peeled, cut into 2-3 pieces)
600g dasheen or yam (peeled, cut into large pieces)
300g fish, preferably tuna, but any fish is good (I used salmon pieces)
1 fish cube (10g)
1 large onion (sliced)
hot sauce to taste
few garlic cloves (sliced)
sea salt to taste
handful or two of chopped chives or spring onions (chopped) – optional
sweet red bell pepper (sliced)
½-1 lemon juce
2-3 tbs Carotino or olive oil to fry onion
oil to peel bananas
boiling water
METHOD
Peel bananas with oiled hands, otherwise green bananas will stain your hands. Cut each into 2-3 pieces. Also peel dasheen or yam, and cut into large pieces. Place in a pot of boiling water and cook until soft, drain, remove from the pot and leave aside.
On the bottom of the same pot fry onions and garlic on oil for a while, then add fish, bell pepper, lemon juice and fry some more until golden brown and fish almost cooked. Add dasheen/yam, chives or spring onions, hot sauce and fish cube dissolved in enough hot water to cover the fish. Cook covered until fish is ready and water reduced to your liking. Season with salt and serve.
Serve 4 people.
Green bananas are called "figs" in some parts of the World, more precisely at Dominica in the Caribbean.