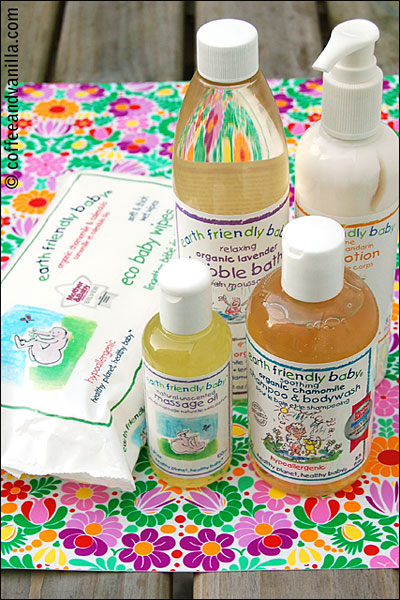 Having quite a lot of experience with all kind of baby products I noticed that eco ones usually don't smell as good as their less ecological competitors and for that reason I was quite surprised to find out how divine Earth Friendly Baby cosmetics from Lansinoh are.
Shampoo & body wash, bubble bath and body lotion they are all available in three flavours: chamomile, lavender or mandarin. To be honest I can't decide which one I like the best as all of them are very pleasant, not too strong but at the same time leave baby skin nicely perfumed for hours.
Earth Friendly Baby Organic Chamomile Shampoo & Bodywash does not only smell like chamomile flowers, the scent is much more complex than that with beautiful notes of orange blossom and vanilla.
The Organic Lavender Bubblebath in addition to relaxing lavender feels like the whole field of wild flowers such as poppy. The bottle is very economic as well. It lasts for ever, tiny bottle cover of the liquid makes the whole lot of bubbles in the baby bath basin, perfect for bedtime bath.
And the Organic Mandarin Body Lotion has lovely fresh aroma of citrus trees and non greasy, easy to spread formula in convenient to use, even while handling wiggling baby, pump bottle.
The Natural Unscented Massage Oil has completely no scent but that is ok because baby smells already wonderfully from the bath so there is no need for anything extra. And it makes baby skin silky in touch.
My least favourite product are Eco Baby Wipes with chamomile and calendula that have hardly any fragrance except for slight almondy tone, but they are soft, juicy, thick and biodegradable what is a big plus.
Haven't got a chance to try Organic Red Clover Diaper Care Cream and Organic Calendula Daily Care Cream but looking at the whole range I'm sure they are pretty good as well.
I should probably mention that the we are rather allergic family. Sometimes I can't use soap for my kids because I'm getting allergic reaction from bathing them and my daughters are getting eczemas even from well known baby brands… Nothing like this has happened since we are using the Earth Friendly Baby which is amazing (!)
The Earth Friendly Baby cosmetics besides being gorgeously scented leave baby skin extremely soft and smooth. They may seem a bit pricey at first but they are well worth the price. I don't think my daughter's skin has been ever so nice in touch… except the time she was just born. Earth Friendly Baby did really great job with their cosmetics and I'm happy to recommend them. I'm also glad they are available on Amazon, among other retailers, so I can easily get more when my review bottles will finish.
With thanks to Andréa from Myriad PR and Earth Friendly Baby for complementary product samples.
Parts of this article can be found between my other reviews on Amazon website.