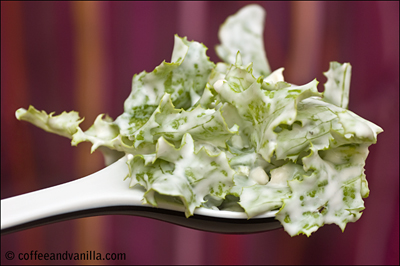 INGREDIENTS
8 tbs mayonnaise or for lower in calories version 4 tbs natural yogurt and only 3 tbs mayo
100g mature Gorgonzola cheese / Gorgonzola Piccante or other similar blue cheese
1 huge or 2 smaller lettuce heads (washed and torn) or 1 lettuce and 4-6 tomatoes (cubed)
sea salt to taste
METHOD
On the bottom of salad bowl combine Gorgonzola with mayonnaise and optionally yoghurt and mash until smooth.
Add lettuce (and tomatoes if used), mix well, season to taste with freshly cracked pepper and sea salt.
Serve immediately.
Makes 4 generous portions.
More blue cheese recipes:
Michelle made delicious blue cheese sauce for steak.