[adapted from recipe by Mollie Thomson, Rosalba Gioffre and Sara Vignozzi from old pocket cookbook "Ciasteczka" I brought with me from Poland]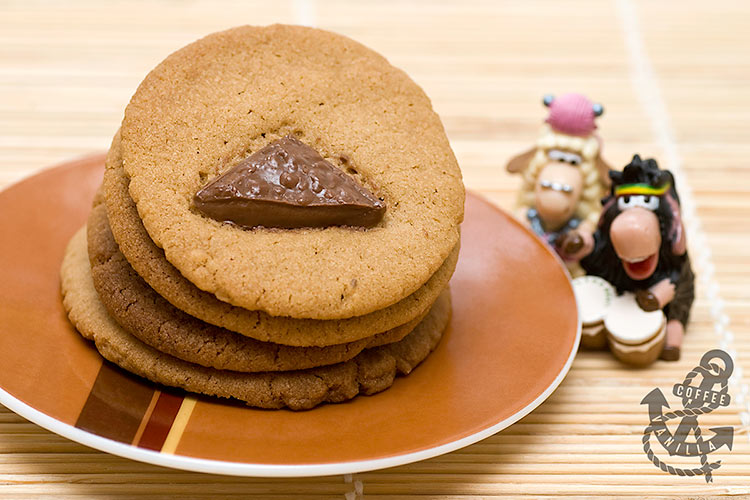 INGREDIENTS
250 g (1 bar/ 2 sticks) of unsalted butter (softened)
1 cup golden caster sugar
½ cup soft dark brown sugar
2½ cup plain flour
2 tsp baking powder
2 pinches of salt
1 tbs vanilla extract
1½ tbs instant coffee dissolved in 2 tbs hot water (can be easily replaced with water and some other extract such as almond or orange, I used VIA Italian Roast ready brew coffee from Starbucks)
64 chocolate chunks or chocolate buttons, I used 150 g bar or milk chocolate (each chocolate chunk divided across into triangle pieces), but dark or white chocolate can be used as well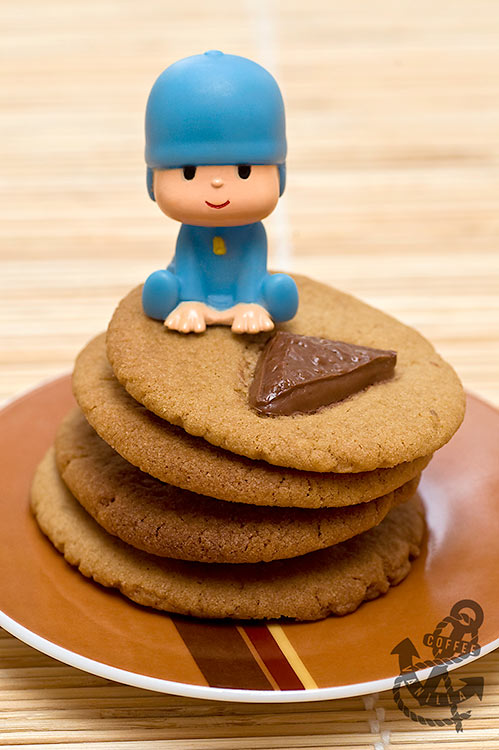 EQUIPMENT
round wooden mallet or spoon
mixing bowl
4 baking trays lined with non stick Teflon sheets or baking paper
METHOD
Cream butter and sugar together until fluffy with wooden spoon or even better round wooden mallet.
Then stir in salt, vanilla extract, coffee, baking powder and gradually flower.
Continue stirring with wooden spoon or hands until mixture is well combined.
Divide into 4 pieces, then each piece divide into 16 pieces, you should get 64 even pieces.
Turn each piece into a ball and arrange about 16 or them on each baking tray, making sure there is enough room in between them.
Flatten each ball with your hands, then top each biscuit with chunk of chocolate pushing them in slightly.
Bake in the oven preheated to  150°C (302°F) for about 17 minutes.
When biscuits are ready, remove them from the trays and let them cool down on a rack or baking paper.
Place in air tight container and store up to few days.
Makes about 64 thin biscuits.
NOTES
If you don't have 4 baking trays or space in the oven, just place left over cookie dough in the fridge until first bath is finished baking.
Pocoyo and other characters captured in the photos are thanks to my 3 year old assistant who was helping me in the photo shoot ;)