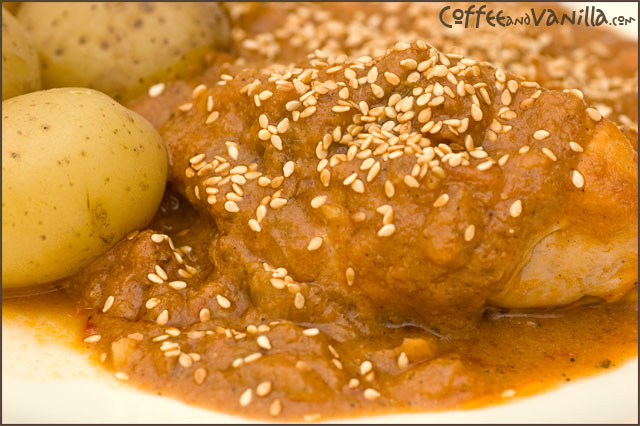 INGREDIENTS
chicken pieces for 3-4 people
1½ tbs vegetable stock granules
2 tbs grape seed oil
2 not too big onions (chopped)
1 tbs dried oregano
1-2 tsp garlic granules
1 tsp ground allspice / pimento pepper
2 cups water
400g tin chopped tomatoes
2-3 tbs natural yogurt
½ creamed coconut bar (100g)
1 tsp hot sauce (I used Sambal Oelek)
3-4 tbs sesame seeds
baby potatoes for 3-4 people
salt
EQUIPMENT
deep frying pan or wok
METHOD
Fry chicken and onions on oil for a while, add water and spices: garlic, oregano, allspice and cook till chicken almost ready.
In meantime cook potatoes in salty water.
Slow down fire under chicken, add tomatoes and hot sauce and cooks some more. Then stir in chopped coconut bar.
Remove from fire and stir in yogurt.
Toast on a small frying pan sesame seeds.
Serve dish to the plates with baby potatoes. Sprinkle over sesame seeds.
Serve 3-4 people.