INGREDIENTS
600 g chicken breast (cubed)
3 carrots (cubed)
2 onions (diced)
3 tbs of olive oil or butter
1 cup green lentils (easy cook ones)
3 cups of boiling water
3 small Maggi cubes or 1 large vegetable cube
1 tbs Caribbean herb mix (thyme, basil, marjoram, savory and parsley)
large red bell pepper (for decoration) – optional
150 g – 200 g mature Cheddar cheese (grated)
1.5 kg potatoes
soured cream or cultured butter milk – to taste
sea salt – to taste
black peppercorns – to taste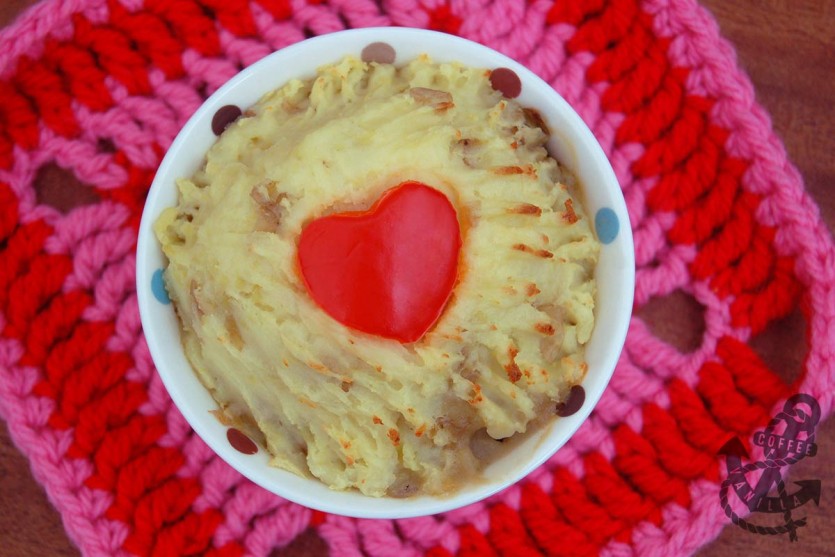 EQUIPMENT
2 pots with lids
about 10 individual ramekin dishes or 1 large oven proof dish
potato masher
cookie cutter (I used heart shaped one) – optional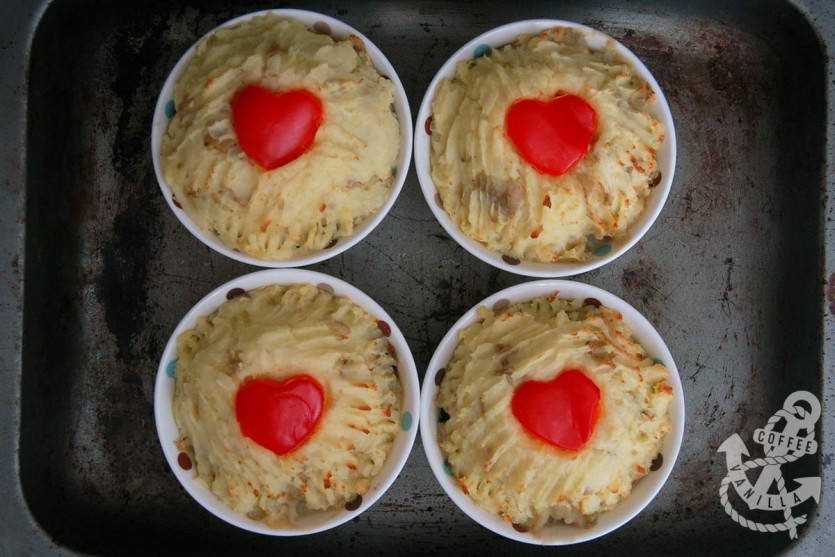 METHOD
In one of the pots place chicken, carrots, onions and butter or oil and fry for a while until onions are browned.
Cut out shapes from the pepper and leave aside, the rest of the pepper chop and put in the pot.
Add also lentils, boiling water, crushed cubes, herbs and simmer covered until lentils are soft. Remove from fire, season to taste with salt and freshly cracked pepper.
In meantime in other pot boil potatoes in plenty of water, when ready drain and mash them. Season with soured cream and salt to taste.
Share chicken & lentil mixture into ramekin dishes.
Top with grated cheese then with mashed potatoes.
Optionally decorate with red pepper cut outs.
Place in the oven preheated to 200°C (392°F) for couple of minutes until potatoes are browned.
Makes 10 small portions perfect for snack / lunch.
NOTES
If you are serving this as main dish allow 1 dish for a child, 2 for adult… my boys managed to gobble up 3 portions each ;)
Looking for more hotpot recipes? Michelle of Greedy Gourmet made lamb hotpot with leek.