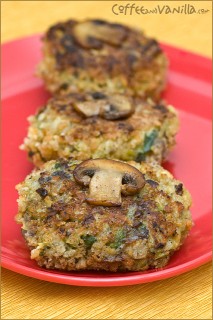 INGREDIENTS
1kg green cabbage – I used organic cabbage from Abel & Cole (quartered)
3 onions (chopped)
500g white button mushrooms – I used organic mushrooms from Abel & Cole (sliced)
50 unsalted butter
4 eggs
4 tbs chopped fresh or frozen parsley
6 tbs breadcrumbs
sea salt to taste
sugar to taste
ground black pepper to taste
flour to roll patties
more breadcrumbs to roll patties
2-3 more eggs to roll patties
more unsalted butter or oil to fry patties
METHOD
First cook quartered cabbage in salted and sugared water until soft. Drain and leave aside.
Mushrooms fry on half of the butter until golden brown, leave few for garnish, the rest chop and leave aside.
Fry also chopped onions on the rest of the butter until golden brown.
When cabbage is not hot any more, chop it as well. Combine cabbage, mushrooms, onions, parsley with eggs and breadcrumbs, season with salt and pepper to taste. Create in your hands ball from the cabbage mixture, roll it in flour then egg and breadcrumbs. Flatten patty a little bit and fry on both sides. Repeat the same steps until all cabbage mixture is gone. Garnish with fried mushroom slices. Serve hot.
Makes 30 small (50ml) patties.

Abel & Cole is a company that deliver to your door organic, seasonal food. Their products come from over 120 British farmers, bakers and producers – as well as some further afield (for Fairtrade bananas, coffee and chocolate). But they never air freight!
You can use white cabbage instead of green one.
You may mince all ingredients instead of chopping them, it will give smoother texture to the patties.
Optionally you can skip the step with flour and roll your patties only in breadcrumbs.