Today, October 1st is World Vegetarian Day.
To find out more about this day visit: World Vegetarian Day website. Events for this occasion are organized all over the World and I'm hosting one of them. The whole month of October is Vegetarian Awareness Month so you can send me your entries till last day of October.
I'm going to make today vegetarian "Creamy Mushroom Soup" and what are you planning to prepare? ;)

1. Send all entries at: coffeeandvanilla(at)416studios(dot)co(dot)uk with "VAM" in the subject line, including:
– link to your post
– your name
– name of your blog
– location
2. Your entry can be any recipe as long as it is 100% vegetarian. It can be also informative post on vegetarian food.
3. Your entry have to be posted on your blog during October 2007.
4. Please use event banner in your entry and link back to this post:

and to http://www.worldvegetarianday.org website.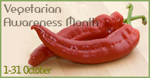 I will post summary with all entries in the first days of November.