Cheese balls make super easy but quite impressive looking party food. And they are versatile as well! Addition of different seasonings and coating can turn it into completely new dish. They can be also shaped into all kinds of things for different occasions: pinecones, hedgehogs or pumpkins, just to mention few.
I made this particular cheese ball for my husband's birthday (instead of a cake) as we try to eat more healthy. Mexican flavours are something we always enjoy and it was no different with this taco cheese ball… we really liked it.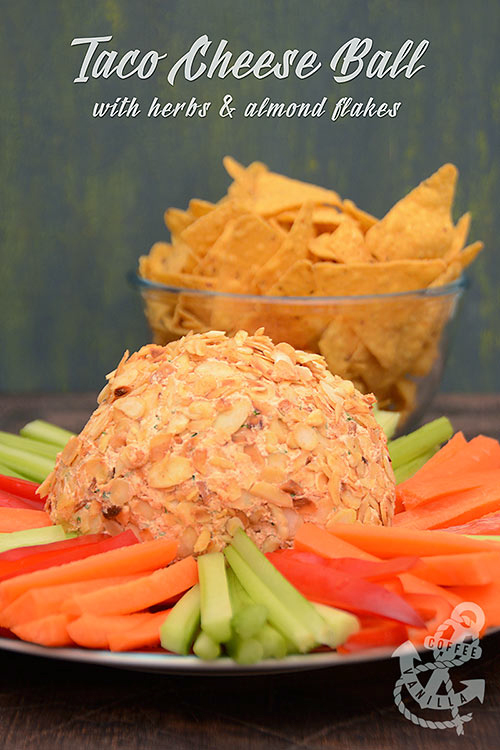 INGREDIENTS
for the cheese ball
2 tubs full fat cream cheese (600 g)
1½ cups of grated cheese (we used mature Cheddar)
about 2 cups (150 g) of almond flakes
3 tbs (25 g) taco seasoning powder
1 tbs sweet paprika powder
small bunch (½ cup) of chives (chopped)
half a small bunch (¼ cup) of coriander (chopped)
sides
veggies: carrots, celery, peppers (cut into sticks)
tortilla chips (best plain), crisp bread or plain crackers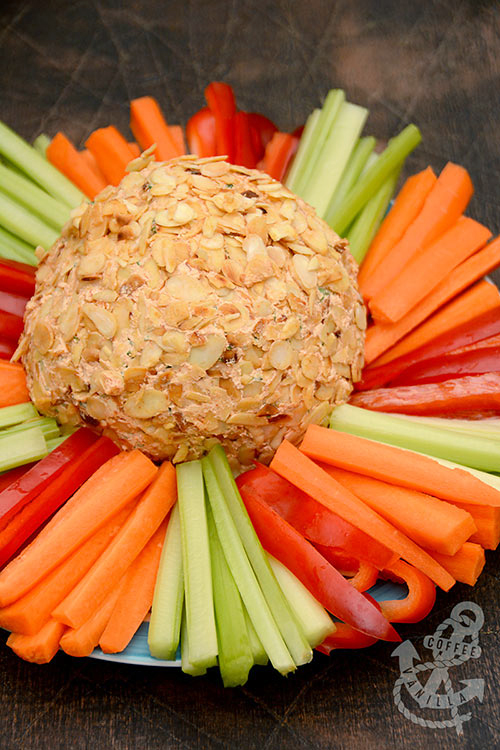 METHOD
First toast the almonds on the frying pan, until browned.
Put aside half of the almonds (nicer, less crushed half) for coating.
To prepare the cheeseball combine the other half of the almonds, taco seasoning, paprika, herbs and cheeses.
Using hand shape it into a ball and roll in previously saved almond flakes.
Place on the plate and put aside to the fridge.
In meantime prepare (cut into sticks) veggies and other sides.
Arrange them around the cheese ball and serve immediately.
Makes generously sized cheese ball (about 15 cm in diameter). 
TIPS
For nut free version skip almonds inside the cheese mixture and use crushed tortilla chips instead for coating.
Any leftovers of the cheese ball or veggies can be used next day in sandwiches.
NOTES
If you are looking for more cheese ball inspirations take a look at Jac's Savoury Cheese Log with Parsley & Pistachios or check out our Cheese Board on Pinterest.