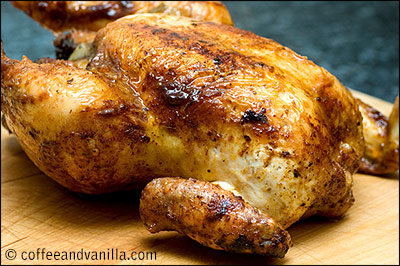 INGREDIENTS
for the stuffing
2 onions (chopped)
little bit of olive oil
6 garlic cloves (peeled)
1 tbs marjoram
2 tbs unsalted butter
for the gravy
⅓ cup olive oil
⅓ cup water
1 tsp Vegeta
1 tsp marjoram
1 tsp garlic granules
1 tbs smoked paprika powder
METHOD
Prepare stuffing: caramelise onions on oil, add garlic and spices.
Put inside chicken together with butter.
Stir all ingredients for gravy.
Place chicken in non stick backing dish and pour gravy over it.
It should be quite a lot of liquid on the bottom of the tin.
Bake for about an hour in 200°C (392°F) turning chicken from time to time to moisture it with the gravy.
Serves 4 people.
More roasting ideas:
Michelle slow-roasted shoulder of lamb for 7 hours (!)
And Jeanne made spicy slow-roast lamb.