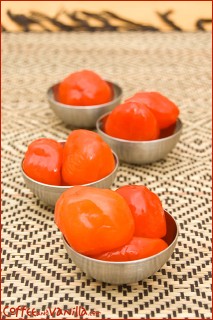 Peppadew – Sweet Piquanté Peppers are my newest discovery.
A while ago I did read about them on Jeanne website and when I saw them in the supermarket I could not help myself, I had to buy and try myself :)
You can find them in two different levels of spiciness:
Mild – with just the gentlest spicy heat to balance the sweetness.
Hot – with a little extra 'kick', but still seductively sweet.
Peppadew in the brand name of sweet piquanté peppers grown in the Limpopo province of South Africa. Peppadew International markets it under the trademarked name Peppadew as a fruit.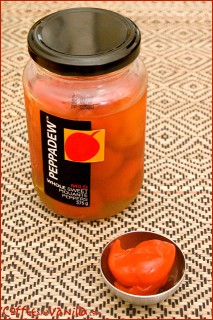 The type of piquanté peppers was discovered and isolated in the 1990s. The name is derived from "pepper" and "dew". Although the pepper is sometimes described as a cross between a pepper and a tomato, this description is not botanically accurate, and refers only to the resemblance in color and size between peppadew and cherry tomatoes.
Peppadew International holds all growing rights to the plant.