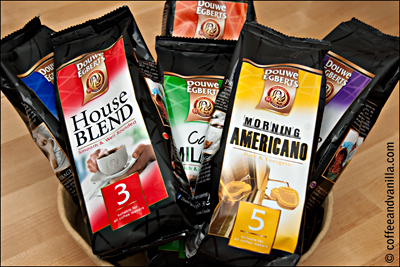 Couple of weeks ago the whole range of ground coffee from Douwe Egberts showed up on my doorstep. I don't have to tell you how thrilled I was and proceeded to test them immediately.
Café Milano – Rich & Aromatic (strenght 3)
I started with Café Milano as it was Saturday afternoon and the name seemed to me the most relevant to the moment. And I must admit it was one of the best coffees I had in a longer while, mild but very flavoursome, silky smooth, without strong bitter notes, just perfect.
Fired Up – Extra Dark & Intense (strenght 6)
On the evenings after the whole day of dealing with children I usually need this extra kick to finish all the household hores, and Fired Up is just right for this task. I feared a little bit this coffee because of the strength and the name expecting very bitter and strong coffee and I could not be more wrong. It was indeed very flavoursome and strong, with tiny bitter tones but very, very nice at the same time.
Morning Americano – Dark & Energic (strenght 5)
Then one morning after working late on the computer Morning Americano came to the rescue. Morning Americano is very intense but not bitter, almost chocolaty I would say.
Time Together – Velvety & Smooth (strenght 4)
On one late lazy Sunday morning I was very lucky because husband brought  me this coffee to bed. It tasted smooth, velvety as in the name with little bitterness, absolutely ideal unsweetened with couple of biscuits on the side.
House Blend – Smooth & Well Rounded (strenght 3)
On weekends, after family meal, freshly brewed House Blend will not only fill your home with divine aroma but will be able to please everyone. It's smooth, not too strong, not to weak… well-suited to satisfy any taste.
Flavourful Decaff – Rounded & Full Flavoured (strenght 3)
And when you feel that there is too much caffeine in your blood but you still crave for cup of coffee Flavourful Decaff is the best solution. Many decaff coffees just don't taste real but definitely not this one. Flavourful Decaff is really flavourful, I can't tell the difference from regular caffeinated coffee.
With thanks to Douwe Egberts and Jessica from Manning Gottlieb OMD for complementary samples.
All coffees were tasted using 1 tbs of ground coffee per regular 250 ml cup and brewed in coffee press / Cafetiere similar to this one.