Lunchbox # 29 (for 4 year old girl)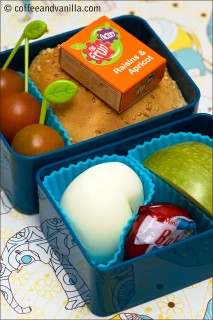 round, sesame roll with turkey ham, butter and fresh basil leaves
cherry tomatoes with leaf shaped picks
mini box of dried fruits: raisins and apricots
pieces of green apple (dipped in water with lemon for it not to get brown)
Babybel cheese
plum & pomegranate fruit tea in a bottle (not pictured)
single green apple wipe (not pictured)
mini tissue package (not pictured)
Everything closed in a lunchbox with a strap, placed together with fruit shaped food chillers in a plastic zip bag.
Update:
Only pack of dried fruits and some tea come back from the school… but she finished everything as soon as we reached home, she probably did not have enough time at school.
More lunchbox ideas can be found here: Lunchbox Food.
And here you can read about Packing Children Lunches.