[recipe inspired by my friend Lidka, who often prepare this dish]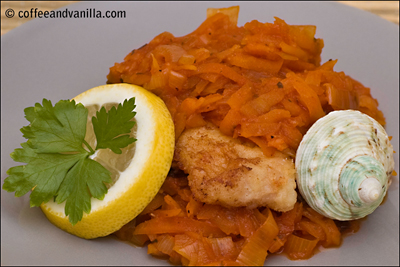 INGREDIENTS
for the veggies
2 large leeks – 400g (sliced)
4 medium onions – 500g (chopped)
unsalted butter or olive oil to fry onions
about 10 carrots (1kg)
2 parsnips (500g)
¼ celeriac root (200g) – optional
300g tin of tomato puree
1½ cup hot water to dissolve cubes
3-4 fish or vegetable cubes (10g each)
handful of freshly chopped parsley leaves (1 tbs dried) or lemon thyme
½ lemon juice
½ tbs garlic powder of few garlic cloves (chopped)
1 tbs golden caster sugar
2 tbs paprika powder – optional
1 tsp black peppercorns (freshly cracked)
10-15 small bay leaves
½ tbs allspice / pimento (whole berries)
sea salt
for the fish
1½ kg frozen white fish fillets (defrosted in warm water and pat dry)
flour to dust fish
unsalted butter or olive oil to fry fish
for garnish
some fresh flat parsley leaves or lemon thyme leaves
lemon slices
EQUIPMENT
grater
non-stick flat frying pan to fry fish
large non-stick frying pan or wok to fry onions and leek
large serving bowl(s)
large non-stick pot with cover to cook veggies
METHOD
First fry onions and leek on butter or olive oil in a large frying pan until golden brown.
Move to the large pot and leave aside.
Grate carrots and parsnips and optionally celeriac and add them to the pot.
Add also tomato purée, water with dissolved cubes, parsley, lemon juice, garlic, sugar, paprika powder, black pepper, bay leaves and allspice / pimento pepper. Cook covered until vegetables are soft to your liking, season to taste with salt if necessary.
When vegetables are cooking, dust fish with flour and fry on both sides, on butter, until golden brown.
Place half of the vegetables on the bottom of serving bowl(s), arrange on the top of it fried fish and cover with the rest of vegetables. Garnish with lemon slices and fresh parsley.
Serve immediately when still warm. You can also serve it after few hour or next day cooled down in the fridge (perfect party food).
Serve 10 people as dinner (or 5 for 2 days) or many more as a party food.
Use more fish (2 kg) with the same amount of vegetables if planning to use it for the party.
Serve freshly prepared warm for dinner with baked whole potatoes or potato slices.
You can also serve it cold next day or after few hours in the fridge with fresh bread on a side, perfect for Summer dinner or as a party food.
Greek Style Fish, despite the name, is traditional Polish dish that has been prepared almost in every Polish house for generations.