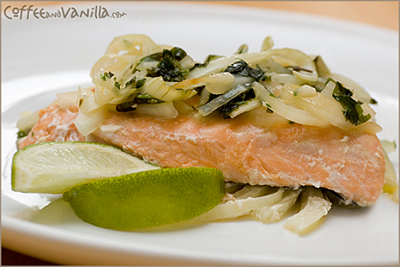 INGREDIENTS
1kg fresh salmon (6 pieces)
3 medium onions (finely chopped)
½ cup fresh parsley or frozen parsley (chopped)
100g unsalted butter
1 ½ tbs Vegeta (vegetable seasoning), Adobo seasoning or vegetable stock granules
1 lime (cut in 6 pieces)
METHOD
Place half of the onions in non stick baking dish, then salmon, rest of the onions, sprinkle everything with Vegeta and on the top put chopped butter.
Cover dish with aluminum foil and bake for about 40 minutes in 160°C (320°F).
Remove foil and bake for couple more minutes.
Serve with "Coconut Rice" or pasta, some salad and a slice of lime.
Serves 6 people.