Lunchbox # 2 (for 12 year old boy)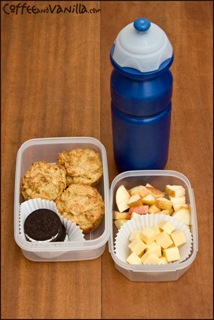 And again, I wasn't allowed (to see why read this post) to make lunchbox look cute but I did sneak some muffin cases to separate food… I ordered also some sporks (spoon and fork in one) and other lunchbox accessories, so you will see them in next posts.
3 Salt Fish Muffins (follow the link for recipe)
cubed Gala apple
cubed mild Cheddar cheese
4 mini Oreos
double (600ml) fruit tea (Plum & Pomegranate)
More lunchboxes coming soon…. some already existing recipes for Lunchbox Food you can find here.