This is our first ever post on Coffee & Vanilla, hope you will enjoy it…
INGREDIENTS
veggies
1.5 kg frozen oriental / stir fry mixed vegetables (bamboo, bean sprouts, green beans, sweet corn, red pepper, onion etc.)
oil for frying (I used corn oil)
salt – to taste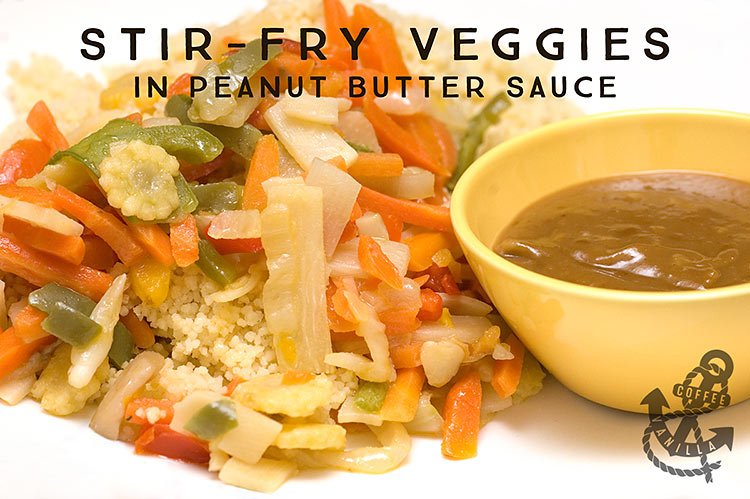 couscous
500 g couscous or noodles
1000 ml boiling water
1 – 2 vegetable stock cubes
peanut sauce
6 tbs smooth peanut butter
4 tbs reduced salt dark soy sauce
3 gloves of garlic (finely chopped)
2 tbs of soft dark brown sugar
⅔ cup of hot water
3 pinches (a little bit more than half a teaspoon) ginger powder
extras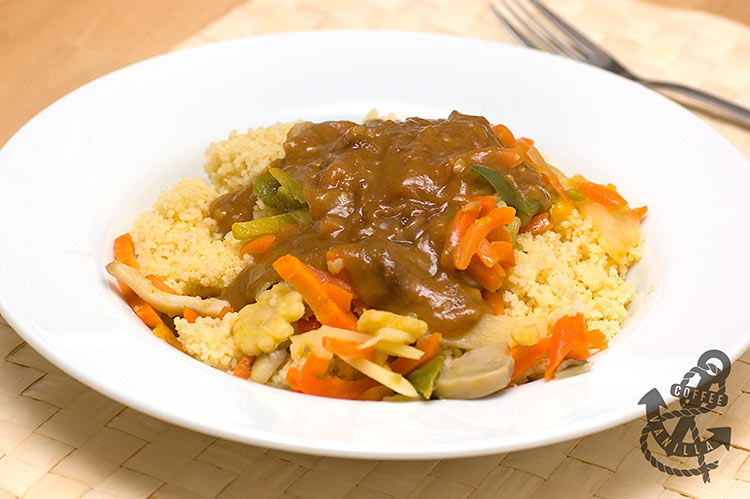 METHOD
Place couscous it in a large mixing bowl, add vegetable stock cubes (crushed) and boiling water.
Cover and leave aside till couscous soak all the water. Optionally prepare noodles accordingly to the instructions on the package.
Stir fry vegetables, add salt. When vegetables are ready, optionally beat in eggs and fry some more.
In small saucepan mix all ingredients for peanut sauce, heat till sauce have smooth texture and starts boiling.
Serve vegetables over couscous, top with peanut sauce or serve it in small bowls next to the plates.
Serves 4 – 6 people.
TIPS
This dish will taste also great with noodles instead of couscous.
NOTES
More quick meal ideas.