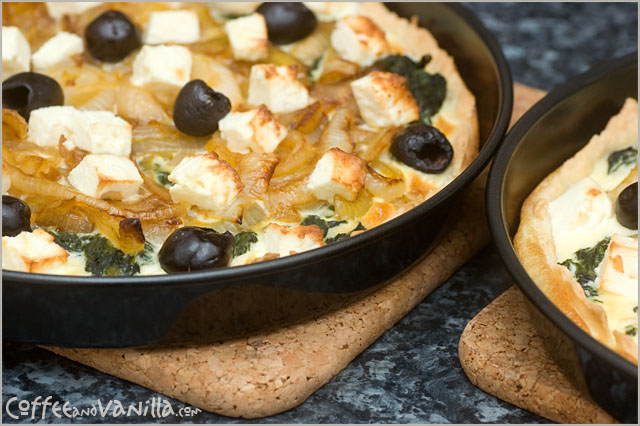 INGREDIENTS
for short crust pastry
3 cups plain white flour
180g unsalted butter (cold, chopped)
3 pinches salt
3-4 egg yolks (I used 4 small yolks)
2-3 tbs natural yogurt or soured cream
for the topping
4 medium red or white onions (sliced)
2 tbs Carotino oil for frying onions
1 kg frozen spinach
salt
black pepper
ground nutmeg
200g feta cheese (drained and cut in cubes)
4 handfuls pitted black olives
1 cup (250 ml) single cream
3–4 eggs (beaten)
EQUIPMENT
four 22 cm (8,6 inches) tart / pie dishes or disposable flan dishes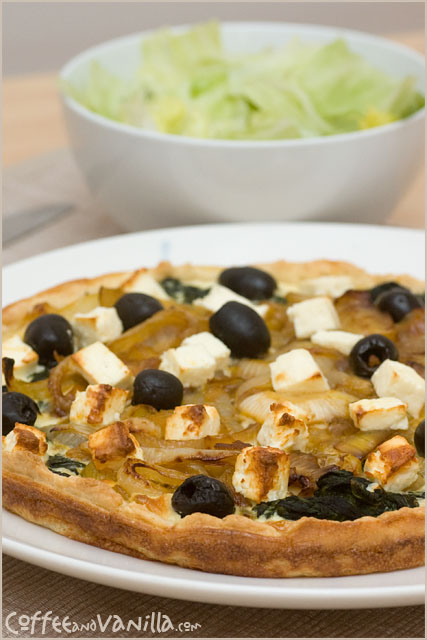 METHOD
Combine all ingredients for the short crust pastry except yogurt and knead fast, dough can't get too hot, at the end add yogurt gradually. Create ball from the dough and place in the fridge for at least 1 hours.
In meantime prepare topping.
In a large pot put water to boil, add spinach. Cook for couple of minutes, then drain, season with salt, pepper and nutmeg. If spinach is too watery, put back in the pot and cook some more till all water is gone.Q
Fry onions on oil for couple of minutes.
Whisk eggs with single cream and leave aside.
Preheat oven to 180°C (356°F).
Divide pastry into 4 pieces, roll out each pastry piece and place in the tin, flatten with the fingers to cover also sides of the tin. Prick the pasty base with fork and bake for few minutes till lightly golden.
Take out from the oven, place spinach on the bottom of the tarts, then onions, feta cheese and olives.
Pour over egg mixed with cream.
Place back in the oven for 15-25 minutes, till feta starting to be brown, and egg cream mixture settled down.
Serve hot with some salad on a side.
Serve 4 people.