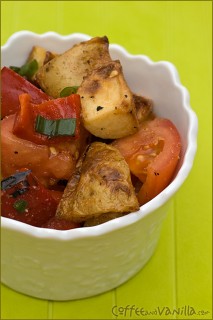 INGREDIENTS
1½ kg potatoes (cubed)
3 tbs extra virgin olive oil
2 tsp garlic granules or some freshly squeezed garlic
1 tsp sea salt
3 red bell peppers (cubed)
3 large vine tomatoes (cubed)
small bunch of chives or green onions (chopped)
black peppercorns
EQUIPMENT
tongs
container with lid, plastic bag or bowl and a plate
METHOD
Toss potatoes with olive oil, garlic and salt, place on a baking tray and bake in the oven preheated to  180°C (356°F).
Burn peppers over gas until each side is black. Place in container, cover with lid, let them steam for about 10-15 minutes. Rub of with your hands some burned skin, but not all. Deseed cube, place in a salad bowl.
Cube also tomatoes and place in a salad bowl.
When potatoes are ready add them also to the bow, season with freshly ground pepper,chives and serve immediately. If you are planning to serve the salad later, keep potatoes separate until last moment, otherwise they will get soggy.
Serve 4-6 people as a side dish or snack.