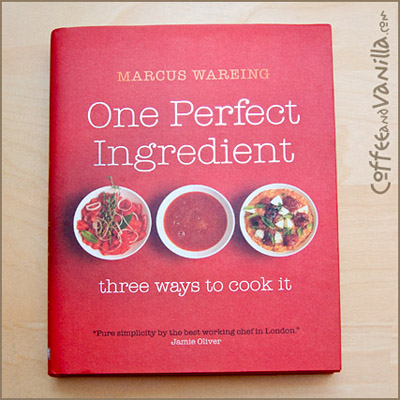 Recently I was asked to review "Once Perfect Ingredient" by Marcus Wareing. While waiting for the book to arrive I was wondering what I will write and if I will like it? Usually I find cookbooks overly complicated. At first glance, the impressions were good, recipes written very clearly without needless words, fresh photography, and great recipe ideas. The book is also very good quality able to survive my kitchen – hard cover what is a big plus.
The subtitle of the book is: "three ways to cook it", which gives you an idea of the book's format. Everday ingredients are used to create three totally diverse, simple but elegant dishes. Taking Aubergines as an example, the book suggests, Ratatouille, Curried Aubergines with peas, or Moroccan Aubergines… Very useful, when you don't know what to cook, this book gives you a few choices.
Recipes are quite easy to prepare but they are not your everyday recipes… they are simple but not plain. Ingredients are turned into exciting dishes sometimes with quite unusual combinations of flavour.
Not all recipes are illustrated with photos which is the only minus from my point of view, then again it is not a photo album but a cookbook.
Verdict: one perfect cookbook to buy for yourself or as a gift.
"One Perfect Ingredient"
AUTHOR: Marcus Wareing
PUBLISHER: Dorling Kindersley
FORMAT: Hardback
SIZE: 256 x 202 x 26 mm
PAGES: 224
LANGUAGE: English
ISBN: 978-1405320047
PUBLISHED: 11th of March 2008